Call
1 (800) 690-5388
if you have any stair lift questions.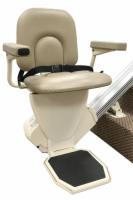 The AmeriGlide Rave distinguishes itself from other stair lifts on today's market with its compact design and easy installation. Sporting a 350-pound lift capacity and a metal-encased rack-and-pinion drive system, the Rave takes up less than a foot of space when folded up, making it the perfect stair lift solution for homeowners with exceptionally narrow stair cases. An adjustable-height padded seat is included for your comfort, as well as safety switches that prevent the lift from moving if any obstruction is present beneath the unit. The track for the Rave mounts directly to your stair case - not your walls! - and uses just one bracket at each point of contact to make installation easier on you or your handyman.
Best of all, every AmeriGlide Rave stair lift is manufactured in the United States of America, so call us today to order yours!
**Please Note** The Rave's swivel seat only rotates 90° for top landing exit. It does not rotate for the bottom landing.
* WA and CT residents please check your local code requirements.


Why buy your stair lift from A1 Medical Supplies?
PRICE
Our prices can't be beat!




Drive Type

:

Polymer Worm / Worm-Rack

Battery Powered

:

Yes

Self Installable

:

Yes

Basic Installation Included

:

No

Standard Capacity

:

350 lb

Max Track Length, Standard

:

14.9'

Max Track Length, Optional

:

70'

Track Material

:

Aluminum

Swivel Seat

:

Yes

Flip-Up Seat

:

Yes

Flip-Up Armrests

:

Yes

Constant Pressure Controls

:

Yes

Footrest Safety Sensor

:

Yes

Seat Width

:

19"

Unit Footprint, In Use

:

22.5"

Unit Footprint, Folded

:

11"

Track Footprint

:

7"

Track Width

:

4.875"

Call Stations Included

:

Yes - Wireless

Digital Diagnostics Display

:

No

Power Cord Lengths

:

10' with the charger box in the middle

Key Lock

:

No
Each curved stair lift must be custom manufactured to suit the unique requirements of the site. The unit is manufactured to the exact dimensions of the site application as determined by the digital survey and no two applications are alike. Lifts go into factory production immediately upon submission of the order to the factory which is after customer signs off on the CAD drawing. Accordingly, AmeriGlide has a substantial investment in resources and labor and as such we have a 25% cancellation fee for any order cancelled after the measurement survey but prior to submission for production, 50% once the lift is in production. Once a custom stair lift order has been shipped it cannot be canceled or returned. The shipment cannot be refused. No refund will be made for orders of this status.
made in usa

Apr 18, 2018 5:28 PM

frank

from

mpls. mn. bloomington

would recommend this to a friend.

A Little About Myself

sales & master tech.

Pros
Cons
Service & Delivery

great!!!!

your installer bought 1 for his mother. that tells that it is good.
Rave review

Dec 20, 2016 11:01 AM

Pastor Dale

from

tahlequah, Oklahoma

would recommend this to a friend.

A Little About Myself

Pastor

Pros

easily installed, works great,

Cons

haven't noticed any yet

Service & Delivery

quick and easy.

the people I worked with over the phone were great. very helpful and informative.