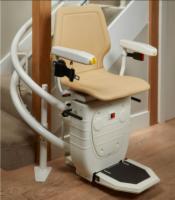 The Ameriglide Infinity Curved Stairlift offers complete user independence and peace of mind.

The seat and footrest are easily folded, giving more space when the Infinity is not in use.

With the digital diagnostic display as standard, the status of the Infinity stairlift is easy to follow with clear, backlit text.

This stair lift must be installed by trained installers. It is not user installable; however, the installation cost is included in the shipping fee.