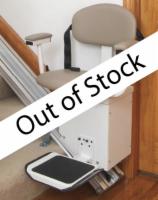 Don't let a physical disability or limited mobility prevent you from enjoying all areas of your home. With an AmeriGlide stair lift, going downstairs to your kitchen or up to your bedroom can be both safe and easy. Best of all, we offer used stair lifts at a fraction of the price of new stairlift units, allowing you to retain your independence without going over budget.
All used AmeriGlide stair lifts undergo intense scrutiny by our factory-trained specialists. Every lift is disassembled, cleaned, and repaired before being reassembled and tested to ensure that you will enjoy reliable performance for years to come.
This used electric powered stair lift has a 350 pound weight capacity and flip up seat that can be folded out of the way, leaving a minimal footprint on your staircase when not in use. It also features a swivel seat that makes it easy to transfer in and out of your lift.
Enjoy the best in safety, performance, and value when you invest in one of our used electric powered stair lifts.
Track lengths of 19.5' are available. Please call for more information. (Weight capacity is reduced to 250 pounds if track length is 16 feet or long4er.)
We also buy back used AmeriGlide stair lifts, find out more here.