Call
1 (800) 690-5388
if you have any stair lift questions.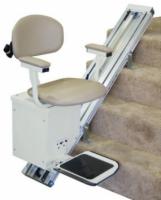 Built for Safety. Every detail of our Rubex electric powered stairlift is designed with your safety in mind. We build safety sensors into the footrest, include a locking mechanism in the seat belt, and give the motor instant reversing capability. With automatic limits at each end of the track, standard mechanical and electrical slack cable safety devices, and a fail-safe mechanism that prevents operation until the seat is in the correct position, this stairlift is one of the safest on the market today. It is ETL listed and meets ASME A17.1 and A18 safety standards for public and private use. We also include call stations for both top and bottom landings, which can be mounted to the wall or to the floor. Read more about AmeriGlide stair lift safety standards.
Easy "Homeowner" Installation. Unbelievably, the AmeriGlide Rubex electric powered stair lift simply plugs into the nearest outlet. No special wiring is needed! You can install it on either the right-hand or left-hand side of your staircase; you can even switch it from side to side without any additional parts.
Sleek Design Compliments Any Decor. The AmeriGlide Rubex electric powered stair lift is available in an attractive almond finish with your choice of vinyl seat color. When not in use, you can easily fold up the padded seat and flip up the footrest and your stair lift only takes up 14 inches of space. It's so compact, other people in your household always have full use of the stairs.
Questions? Contact one of our stair lift experts to find out more about how the Rubex electric powered stair lift fits your life.
Note: weight capacity is reduced to 250 pounds if track length is 16 feet and longer.
* WA and CT residents please check your local code requirements.


Why buy your stair lift from A1 Medical Supplies?
PRICE
Our prices can't be beat!




Drive Type

:

Cable

Battery Powered

:

No

Self Installable

:

Yes

Basic Installation Included

:

No

Standard Capacity

:

350 lb

Max Track Length, Standard

:

15'

Max Track Length, Optional

:

25'

Track Material

:

Aluminum

Swivel Seat

:

Yes

Flip-Up Seat

:

Yes

Flip-Up Armrests

:

Yes

Constant Pressure Controls

:

Yes

Footrest Safety Sensor

:

Yes

Seat Width

:

17.5"

Seat Depth

:

14"

Unit Footprint, In Use

:

24.5"

Unit Footprint, Folded

:

14"

Track Footprint

:

12"

Track Width

:

8"

Call Stations Included

:

Yes - Wired

Rail Angle, Min

:

30°

Rail Angle, Max

:

45°

Digital Diagnostics Display

:

No

Key Lock

:

No
Each curved stair lift must be custom manufactured to suit the unique requirements of the site. The unit is manufactured to the exact dimensions of the site application as determined by the digital survey and no two applications are alike. Lifts go into factory production immediately upon submission of the order to the factory which is after customer signs off on the CAD drawing. Accordingly, AmeriGlide has a substantial investment in resources and labor and as such we have a 25% cancellation fee for any order cancelled after the measurement survey but prior to submission for production, 50% once the lift is in production. Once a custom stair lift order has been shipped it cannot be canceled or returned. The shipment cannot be refused. No refund will be made for orders of this status.