Call
1 (800) 690-5388
if you have any stair lift questions.
All pre-owned AmeriGlide stair lifts are covered by a 1 year parts-only warranty. Batteries are covered by a 30 day warranty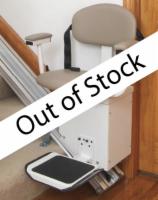 Don't let a physical disability or limited mobility prevent you from enjoying all areas of your home. With an AmeriGlide stair lift, going downstairs to your kitchen or up to your bedroom can be both safe and easy. Best of all, we offer used stair lifts at a fraction of the price of new stairlift units, allowing you to retain your independence without going over budget.
All used AmeriGlide stair lifts undergo intense scrutiny by our factory-trained specialists. Every lift is disassembled, cleaned, and repaired before being reassembled and tested to ensure that you will enjoy reliable performance for years to come.
This used electric powered stair lift has a 350 pound weight capacity and flip up seat that can be folded out of the way, leaving a minimal footprint on your staircase when not in use. It also features a swivel seat that makes it easy to transfer in and out of your lift.
Enjoy the best in safety, performance, and value when you invest in one of our used electric powered stair lifts.
Track lengths of 19.5' are available. Please call for more information. (Weight capacity is reduced to 250 pounds if track length is 16 feet or long4er.)
We also buy back used AmeriGlide stair lifts, find out more here.
* WA and CT residents please check your local code requirements.


Why buy your stair lift from A1 Medical Supplies?
PRICE
Our prices can't be beat!




Drive Type

:

Cable

Battery Powered

:

No

Self Installable

:

Yes

Basic Installation Included

:

No

Standard Capacity

:

350 lb

Max Track Length, Standard

:

7'

Max Track Length, Optional

:

25'

Track Material

:

Aluminum

Swivel Seat

:

Yes

Flip-Up Seat

:

Yes

Flip-Up Armrests

:

No

Constant Pressure Controls

:

Yes

Footrest Safety Sensor

:

Yes

Unit Footprint, In Use

:

24.25"

Unit Footprint, Folded

:

14"

Track Footprint

:

10"

Warranty

:

1 Year Parts Only

Call Stations Included

:

Optional - Depends on inventory available

Rail Angle, Min

:

30°

Rail Angle, Max

:

45°

Digital Diagnostics Display

:

No

Power Cord Lengths

:

Approxiamtely 18' long

Key Lock

:

No
Each curved stair lift must be custom manufactured to suit the unique requirements of the site. The unit is manufactured to the exact dimensions of the site application as determined by the digital survey and no two applications are alike. Lifts go into factory production immediately upon submission of the order to the factory which is after customer signs off on the CAD drawing. Accordingly, AmeriGlide has a substantial investment in resources and labor and as such we have a 25% cancellation fee for any order cancelled after the measurement survey but prior to submission for production, 50% once the lift is in production. Once a custom stair lift order has been shipped it cannot be canceled or returned. The shipment cannot be refused. No refund will be made for orders of this status.
Very Good Product

Dec 17, 2012 11:28 AM

Sparky

from

Peoria, IL

would recommend this to a friend.

A Little About Myself

Retired Electrician

Pros

Very easy to install(instructions were clear and easy to follow). Unit worked properly after install.

Cons

Troubleshooting guide lacking (no electrical schematic).

Service & Delivery

Prompt delivery. Telephone service help is lacking.

High quality product. Well engineered. Am satisfied with unit.

1 of 1 person found this review helpful
Lift works great, should of gotten it sooner.

May 21, 2010 5:08 AM

Denny

from

Pine River, MN

would recommend this to a friend.

A Little About Myself

Caregiver

Pros

Safe

Cons

The lift makes it much safer to make transitions from one floor to the other.

22 of 26 people found this review helpful