Call
1 (800) 690-5388
if you have any stair lift questions.
1 year on batteries
2 years on parts
5 years on drive train, motor and circuit board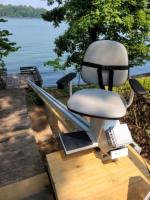 With a price much lower than a tram, the Crest Lake Home Lift provides an extra long track outdoor lift suitable for lake living. If your installation is away from the power grid, the optional solar charger for the included batteries will keep your lift ready to go when you are. (Solar Charger must be placed where it has good view of the sun, not under tree or other shade.)

The standard lift provides a 50' track but that can be extended with the option of up to 100'. A cargo tray comes standard with the Crest Lake Home Lift which allows the easy transport of bulky or heavy items such as a 48 quart cooler.

Call our lift experts and begin enjoying your lake life.
* WA and CT residents please check your local code requirements.


Why buy your stair lift from A1 Medical Supplies?
PRICE
Our prices can't be beat!




Drive Type

:

Rack and Pinion

Battery Powered

:

Yes

Self Installable

:

No

Basic Installation Included

:

No

Standard Capacity

:

350 lb

Max Track Length, Standard

:

50'

Max Track Length, Optional

:

100'

Track Material

:

Anodized Aluminum

Swivel Seat

:

Yes

Swivel Seat Rotation

:

90 degrees at top landing

Flip-Up Seat

:

No

Flip-Up Armrests

:

No

Constant Pressure Controls

:

Yes

Footrest Safety Sensor

:

No

Warranty

:

1 year on batteries, 2 years on parts, 5 years on drive train, motor and circuit board

Track Width

:

6.5"

Rail Angle, Min

:

25°

Rail Angle, Max

:

45°

Digital Diagnostics Display

:

No

Key Lock

:

No
Each curved stair lift must be custom manufactured to suit the unique requirements of the site. The unit is manufactured to the exact dimensions of the site application as determined by the digital survey and no two applications are alike. Lifts go into factory production immediately upon submission of the order to the factory which is after customer signs off on the CAD drawing. Accordingly, AmeriGlide has a substantial investment in resources and labor and as such we have a 25% cancellation fee for any order cancelled after the measurement survey but prior to submission for production, 50% once the lift is in production. Once a custom stair lift order has been shipped it cannot be canceled or returned. The shipment cannot be refused. No refund will be made for orders of this status.