Call
1 (800) 690-5388
if you have any stair lift questions.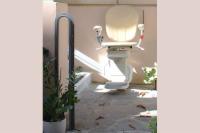 The AmeriGlide Horizon Outdoor Stair Lift is compact, easy install, and designed to withstand the elements. An easy to reach lever will allow you to fold up the seat and footrest of your chair, creating plenty of space for others to use the staircase. In just a matter of hours you can transform outdoor obstacles into mobility friendly spaces. Enjoy easy access to your home and outdoor spaces again when you purchase the waterproof Horizon Outdoor Lift. Every component of this model, from the electric control boards to the seat, has been weatherized so that you can enjoy the use of your lift for years to come!
Other standard features of this out door stair lift include:
Lever operated swivel seat that will allow you to manually turn the chair so that you can safely and easily enter and exit the seat
Footrest with safety edge technology that can detect obstructions and halt the operation of your chair if necessary
Ergonomically designed seat and joystick that make it a perfect fit for any user
Security key switch that only allows authorized users to access your chair
Perhaps best of all, this peerless stair lift is available for an incredible value and comes with the nation's best warranty. Call us today to learn more!
* WA and CT residents please check your local code requirements.


Why buy your stair lift from A1 Medical Supplies?
PRICE
Our prices can't be beat!




Drive Type

:

Rack and Pinion with OSG control

Battery Powered

:

Yes

Self Installable

:

No

Basic Installation Included

:

Yes

Standard Capacity

:

308 lb

Max Track Length, Standard

:

14.75'

Max Track Length, Optional

:

30'

Track Material

:

Aluminum Single Rail

Swivel Seat

:

Yes

Swivel Seat Rotation

:

Powered - Top Only

Flip-Up Seat

:

Yes

Flip-Up Armrests

:

Yes

Constant Pressure Controls

:

Yes

Footrest Safety Sensor

:

Yes

Seat Width

:

17.7"

Unit Footprint, In Use

:

24.8"

Unit Footprint, Folded

:

13.5"

Call Stations Included

:

Yes

Seat Width, Max

:

22"

Rail Angle, Min

:

25°

Rail Angle, Max

:

62°

Digital Diagnostics Display

:

Yes

Key Lock

:

Yes
Each curved stair lift must be custom manufactured to suit the unique requirements of the site. The unit is manufactured to the exact dimensions of the site application as determined by the digital survey and no two applications are alike. Lifts go into factory production immediately upon submission of the order to the factory which is after customer signs off on the CAD drawing. Accordingly, AmeriGlide has a substantial investment in resources and labor and as such we have a 25% cancellation fee for any order cancelled after the measurement survey but prior to submission for production, 50% once the lift is in production. Once a custom stair lift order has been shipped it cannot be canceled or returned. The shipment cannot be refused. No refund will be made for orders of this status.