Call
1 (800) 690-5388
if you have any stair lift questions.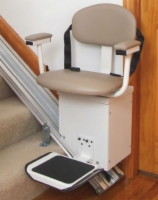 About the AmeriGlide DC Rubex Stair Lift: The AmeriGlide DC Rubex Stair Lift is a battery-powered* stair lift with a 300 lb. weight capacity and comes with an aluminum track up to 20' in length. It also comes with a constant-pressure rocker control switch built into the arm, a swivel seat, and call/send controls.

*The AmeriGlide DC Rubex plugs into a standard household outlet for charging, but runs off a battery so that it will operate normally even in the event of a power outage.

About AmeriGlide Stair Lifts: AmeriGlide stair lifts help you keep the mobility you've enjoyed for so long in your home. Consider that an AmeriGlide Stair Lift offers many benefits such as: a simple installation that can be done in under 2 hours, safety features that have been incorporated after years of studying stair lift use, reliable cable-drive lift system and hard-wired electrical components, and minimal maintenance requirements.
* WA and CT residents please check your local code requirements.


Why buy your stair lift from A1 Medical Supplies?
PRICE
Our prices can't be beat!




Drive Type

:

Cable

Battery Powered

:

Yes

Self Installable

:

Yes

Basic Installation Included

:

No

Standard Capacity

:

300 lb

Max Track Length, Standard

:

16'

Max Track Length, Optional

:

25'

Track Material

:

Aluminum

Swivel Seat

:

Yes

Flip-Up Seat

:

Yes

Flip-Up Armrests

:

No

Constant Pressure Controls

:

Yes

Footrest Safety Sensor

:

Yes

Seat Width

:

19"

Unit Footprint, In Use

:

24.25"

Unit Footprint, Folded

:

14"

Track Footprint

:

12"

Track Width

:

8"

Call Stations Included

:

Yes - Wired

Rail Angle, Min

:

30°

Rail Angle, Max

:

45°

Digital Diagnostics Display

:

No

Key Lock

:

No
Each curved stair lift must be custom manufactured to suit the unique requirements of the site. The unit is manufactured to the exact dimensions of the site application as determined by the digital survey and no two applications are alike. Lifts go into factory production immediately upon submission of the order to the factory which is after customer signs off on the CAD drawing. Accordingly, AmeriGlide has a substantial investment in resources and labor and as such we have a 25% cancellation fee for any order cancelled after the measurement survey but prior to submission for production, 50% once the lift is in production. Once a custom stair lift order has been shipped it cannot be canceled or returned. The shipment cannot be refused. No refund will be made for orders of this status.
Ameriglide Stair lift

May 25, 2011 11:50 AM

Phyll

from

Long Island, NY

would recommend this to a friend.

A Little About Myself

80 year-old woman recovering from back surgery.

Pros

Easy to operate and convenient to enter and exit.

Cons

None.

The Ameriglide stair lift has finally given me the ability to return to my second floor apartment. Without it, I would be unable to leave and return without assistance from others.

1 of 1 person found this review helpful
A blessing.

Jul 26, 2010 10:38 PM

F

from

NY

would recommend this to a friend.

A Little About Myself

Niece

Pros

Easy to install and works without power. Quiet smooth ride.

Cons

This was a blessing for my uncle who I took care of and wouldn't let us move his bed down the stairs. I thought every night, after I brought him to bed that he would fall down the stairs...finally I had his doctor tell him that he could not climb the stairs, that if he had a spell he could hurt himself. We ordered this stair lift the next day...and he just loved it. Now he can go up and down all by himself.

1 of 1 person found this review helpful
Great

Jun 19, 2010 3:55 AM

Foxy

from

Freeport, Ohio

would recommend this to a friend.

A Little About Myself

Elderly, with average health.

Pros

Safe and sturdy.

Cons

The device arrived in good shape. It took 1 person 5 hrs to install on concrete steps. The batteries were a little hard to hook up and I had to lengthen the white wire about 4 inches.

4 of 4 people found this review helpful
Over priced

Feb 28, 2010 6:26 PM

DC

from

Ohio

would not recommend this to a friend.

A Little About Myself

Caregiver

Pros
Cons

Heavy and bulky

The chair is not low enough.
Stair Lift

Feb 22, 2010 2:24 PM

CC

from

Layton, Utah

would recommend this to a friend.

A Little About Myself

Caregiver

Pros

Safe

Cons

This stair lift has been a Godsend for us. The installation went very well, and it has been very useful. We will need to order some extra armrests, as the original ones split very early on.

4 of 4 people found this review helpful
Easy to install and works well!

Feb 17, 2010 2:04 PM

Dennis

from

Mount Shasta, CA

would recommend this to a friend.

A Little About Myself

Average Health

Pros

Sturdy and safe

Cons

Quality control had an issue.

1. The "caterpillar" belt was tied too tightly causing three links to break. Fortunately, the machine did not need those links, and they could be removed and the belt snapped together without them. 2. The center pin in the connector at the bottom of the track was not crimped well. The wire had already fallen out of this pin when the piece was removed from packing. Fortunately, I had the necessary tools and parts to repair this pin. Need a little better quality control. All in all, though, I'm very happy with the stair lift.

5 of 5 people found this review helpful
Stair Lift

Dec 17, 2009 8:12 AM

Perry

from

Boston, Mass.

would recommend this to a friend.

A Little About Myself

Caregiver

Pros

Sturdy

Cons

The device does NOT sit low enough at it's bottom, causing a slight effort to get on the lift. A bit of lifting up to get on is required at the bottom. This appears a typical issue and has to do with disabled users.

4 of 5 people found this review helpful