Call
1 (800) 690-5388
if you have any stair lift questions.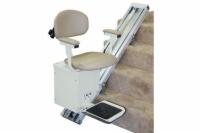 Built for Safety. Every detail of our Rubex electric powered stairlift is designed with your safety in mind. We build safety sensors into the footrest, include a locking mechanism in the seat belt, and give the motor instant reversing capability. With automatic limits at each end of the track, standard mechanical and electrical slack cable safety devices, and a fail-safe mechanism that prevents operation until the seat is in the correct position, this stairlift is one of the safest on the market today. It is ETL listed and meets ASME A17.1 and A18 safety standards for public and private use. We also include call stations for both top and bottom landings, which can be mounted to the wall or to the floor. Read more about AmeriGlide stair lift safety standards.
Easy "Homeowner" Installation. Unbelievably, the AmeriGlide Rubex electric powered stair lift simply plugs into the nearest outlet. No special wiring is needed! You can install it on either the right-hand or left-hand side of your staircase; you can even switch it from side to side without any additional parts.
Sleek Design Compliments Any Decor. The AmeriGlide Rubex electric powered stair lift is available in an attractive almond finish with your choice of vinyl seat color. When not in use, you can easily fold up the padded seat and flip up the footrest and your stair lift only takes up 14 inches of space. It's so compact, other people in your household always have full use of the stairs.
Questions? Contact one of our stair lift experts to find out more about how the Rubex electric powered stair lift fits your life.
Note: weight capacity is reduced to 250 pounds if track length is 16 feet and longer.
* WA and CT residents please check your local code requirements.


Why buy your stair lift from A1 Medical Supplies?
PRICE
Our prices can't be beat!




Drive Type

:

Cable

Battery Powered

:

No

Self Installable

:

Yes

Basic Installation Included

:

No

Standard Capacity

:

350 lb

Max Track Length, Standard

:

15'

Max Track Length, Optional

:

25'

Track Material

:

Aluminum

Swivel Seat

:

Yes

Flip-Up Seat

:

Yes

Flip-Up Armrests

:

No

Constant Pressure Controls

:

Yes

Footrest Safety Sensor

:

Yes

Seat Width

:

17.5"

Seat Depth

:

14"

Unit Footprint, In Use

:

24.25"

Unit Footprint, Folded

:

14"

Track Footprint

:

12"

Track Width

:

8"

Call Stations Included

:

Yes - Wired

Rail Angle, Min

:

30°

Rail Angle, Max

:

45°

Digital Diagnostics Display

:

No

Key Lock

:

No
Each curved stair lift must be custom manufactured to suit the unique requirements of the site. The unit is manufactured to the exact dimensions of the site application as determined by the digital survey and no two applications are alike. Lifts go into factory production immediately upon submission of the order to the factory which is after customer signs off on the CAD drawing. Accordingly, AmeriGlide has a substantial investment in resources and labor and as such we have a 25% cancellation fee for any order cancelled after the measurement survey but prior to submission for production, 50% once the lift is in production. Once a custom stair lift order has been shipped it cannot be canceled or returned. The shipment cannot be refused. No refund will be made for orders of this status.
Very Disapointed that they would not take a return

May 8, 2013 3:48 PM

Disapointed customer

from

United States

would not recommend this to a friend.

A Little About Myself

Son just trying to take care of his mother in her later years.

Pros

Do not have any, I never took it out of the box. It is still sitting in my living room. They did deliver and charge my card very quickly

Cons

Bad return poilicy

The product may be good, but the very day it was delivered to my house the person that it was meant for fell and broke her arm. So I had to take her to a home that could give more care than I could. So the very next day I called to get an RMA. They said they could not take a return under any circumstances. The stairs that it was meant for are sandard straight steps, nothing fancy. So I doubt the product was really cut very much to order. So long story short, I have a stair lift that I cannot use and it wil be very hard to sell. IF YOU ORDER PLEASE BE AWARE THAT THEY DO NO TAKE IT BACK UNDER ANY CIRCUMSTANCES. Or you can call me and I will sell you mine at a good price.

9 of 10 people found this review helpful
Ameriglide AC Stair Lift

Dec 8, 2011 12:23 PM

KMS

from

Dublin, VA

would recommend this to a friend.

A Little About Myself
Pros

Very prompt delivery, well packaged, Stair Lifts(2)look good, very smooth, installation took 2-3 hours for the first unit, half that for the second. The salesteam, was very easy to talk with, all questions were answered promptly. The installed lifts are exactly what was presented to me during the shopping process. I would recommend A1 for your future purchases.

Cons

NONE!!

Service & Delivery

Delivery was less than a week. Packaging was very good, no damage at all.

The only variation from the installation instructions for my units was the distance the mounting brackets were from the wall. I ended up with the bracket an extra 2" from the wall in order to have clearance between the wall & the chair back.

1 of 1 person found this review helpful
Stair Lift

Apr 22, 2011 7:06 AM

Bill

from

Berryville, VA

would recommend this to a friend.

A Little About Myself

Locksmith

Pros

Great Machine!

Cons
Service & Delivery

Very quick.

The only thing, I recommend is putting a small pocket on the chair, the magnet is not strong enough to hold unit in place. I made a holder from light aluminum in about 20 minutes and it works great.
Limit switch not explained - Warrantee less than discussed.

Aug 23, 2010 8:33 PM

kdf-engineer

from

Stairway to basement in parents house

would recommend this to a friend.

A Little About Myself

Engineer

Pros

1. Stairlift works and moves smoothly. 2. Mother able to use stairlift easily

Cons

1. Discovered requirement to lubricate tracks. Not sure how I can do this as I do not live near parents. May not be as low maintenance as advertised. 2. Upon powering up lift, it did not move. Discovered that lower limit switch was pre-installed on upper track (2 ft). This should have been highlighted in instructions. "Lower limit switch comes installed on top rail. It must be repositioned before lift can descend. Arrow points to limit switch in diagram."

I was originally planning to purchase the Ameriglide lift, but there was a special promotion on the Summit and it was reputed to be a better lift (350# vs 300# limit). However, the Ameriglide has a 10 year warranty and the Summit is listed as only a 5 year warranty. As such, I would consider the above claim that, "Summit Stair Lifts have some of the longest warranties in the industry" to be false. This reduction in warranty was never revealed to me prior to purchase, and I consider this misleading.

A1 Medical Supplies

replies:

Thank you for your review. We apologize that the warranty difference was not clearly explained to you. Summit does offer a great warranty compared to most other brands in the industry, but the warranty isn't as good as AmeriGlide's.

5 of 6 people found this review helpful
I would buy this product again and again

May 15, 2010 5:30 PM

Rudy

from

North Canton, Ohio

would recommend this to a friend.

A Little About Myself

Average Health

Pros

Sturdy. Lightweight. Easy Storage. Safe.

Cons

None

I purchased for an elderly. It was easy to install and the price was reasonable so they could afford it.

3 of 4 people found this review helpful
Wonderful !

May 4, 2010 7:14 PM

Property and Finance Committee

from

Battle Creek, Michigan

would recommend this to a friend.

A Little About Myself

Average Health

Pros

Sturdy. Lightweight. Safe. Easy Storage.

Cons

This was a stair lift chair to aid our church members from one level to another. There were 6 steps and was a real problem for 4 people. Thanks for such a wonderful product.

3 of 3 people found this review helpful
wow

Feb 19, 2010 1:46 PM

STEVEN (POPEYE)

from

Parsonsburg, MD

would recommend this to a friend.

A Little About Myself

Elderly caregiver with a bad heart.

Pros

Sturdy, Helpful, Safe, Excelent

Cons

Heavy

This is a excellent product. This stair chair lift was very easy to install the only problem I had was getting to the nuts to level the unit that was between the unit and the wall. Very difficult to get to, you have to have a long handle 3/8 open end wrench. But overall I really love the unit, it works great and looks great what a great help getting up and down those stairs wow mike I thank you for all your help. This is a great chair lift and a great price. - Thanks again, Steve.

5 of 6 people found this review helpful
Really do Love my Chair lift.

Feb 10, 2010 2:23 PM

Tangotrudy used to be dancer.

from

Virginia Beach, Virginia

would recommend this to a friend.

A Little About Myself

Elderly

Pros

Safe, Sturdy, Easy Storage, and Lightweight.

Cons

When your legs go, the chair lift is the way to go. Especially handy for one who has to use a cane to get up and down the stairs. Nice quiet ride. I personally don't have any complaints whatsoever. Thanks for a wonderful product.

3 of 3 people found this review helpful
Easy to install and works great.

Jan 27, 2010 11:24 AM

Mr. Ron

from

Pasadena, Tx.

would recommend this to a friend.

A Little About Myself

Average Health

Pros

Lightweight, safe, and sturdy.

Cons
Service & Delivery

The boxes were very tattered and the rails were slightly scuffed up, and the cord track was broken (but thankfully replaced) when the device was delivered.

We only used the lift for two weeks and sadly the user passed away, so we have disassembled the device and are attempting to sell it.

5 of 6 people found this review helpful
AmeriGlide Stair Lift was a life saver.

Jan 18, 2010 11:06 AM

Woody the poker player.

from

Shalimar, FL

would recommend this to a friend.

A Little About Myself

Elderly

Pros

Safe and sturdy.

Cons

This stair lift prevented me from having to move downstairs.

4 of 4 people found this review helpful