Call
1 (800) 690-5388
if you have any stair lift questions.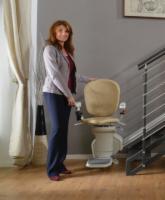 The AmeriGlide Horizon Stair Lift – Reconditioned is an unbeatable value. You can own the latest in premium stair lift technology and safety for a fraction of the price of a new model. When you purchase a reconditioned product from AmeriGlide, you can rest assured that you are getting a high quality model that has gone through an extensive inspection and repair process. Our stair lift experts replace any worn or damaged parts and bring the stair lift up to factory standards. That means that your reconditioned lift is guaranteed to be in the same condition as a brand new lift.
When you purchase the AmeriGlide Horizon Stair Lift – Reconditioned, you will enjoy a superior product that is packed with innovative features that can't be found on any other model. This stylish and compact stair lift will compliment any home and is perfect for narrow staircases. It also comes standard with a retractable seatbelt, a comfortable swivel seat, and foldable foot and armrests.
Call us today to speak with a stair lift expert and learn more about this incredible product. Get started today so that you can start enjoying greater independence and mobility tomorrow!
* WA and CT residents please check your local code requirements.


Why buy your stair lift from A1 Medical Supplies?
PRICE
Our prices can't be beat!




Drive Type

:

Rack and Pinion with OSG control

Battery Powered

:

Yes

Self Installable

:

Yes

Basic Installation Included

:

No

Standard Capacity

:

308 lb

Max Track Length, Standard

:

14.75'

Max Track Length, Optional

:

55.25'

Track Material

:

Aluminum Single Rail

Swivel Seat

:

Yes

Swivel Seat Rotation

:

Yes

Flip-Up Seat

:

Yes

Flip-Up Armrests

:

Yes

Constant Pressure Controls

:

Yes

Footrest Safety Sensor

:

Yes

Seat Width

:

22"

Unit Footprint, In Use

:

24.8"

Unit Footprint, Folded

:

13.5"

Call Stations Included

:

Yes - Wireless

Seat Width, Max

:

22"

Rail Angle, Min

:

25°

Rail Angle, Max

:

62°

Digital Diagnostics Display

:

Yes

Key Lock

:

Yes
Each curved stair lift must be custom manufactured to suit the unique requirements of the site. The unit is manufactured to the exact dimensions of the site application as determined by the digital survey and no two applications are alike. Lifts go into factory production immediately upon submission of the order to the factory which is after customer signs off on the CAD drawing. Accordingly, AmeriGlide has a substantial investment in resources and labor and as such we have a 25% cancellation fee for any order cancelled after the measurement survey but prior to submission for production, 50% once the lift is in production. Once a custom stair lift order has been shipped it cannot be canceled or returned. The shipment cannot be refused. No refund will be made for orders of this status.