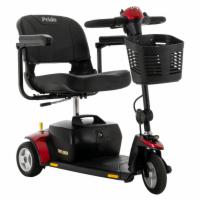 Don't let mobility challenges keep you from visiting friends and family and enjoying an active lifestyle. With the Pride Go-Go LX with CTS 3 Wheel Travel Scooter, you can travel anywhere with ease. The Comfort Trac Suspension system that comes standard with this model sets it apart from its competitors. Both front and rear suspension coils combine to provide the smoothest ride available on the market. No other scooter employs suspension technology.
This innovative mobility scooter is also designed for maximum portability. In just a matter of seconds, it can be broken down into five lightweight components. It also comes with powerful and long-lasting batteries that can travel several miles on a single charge!
Have questions or want to learn more about the Pride Go-Go LX with CTS? Call us today!