Call
1 (800) 347-0153
if you have any stair lift questions.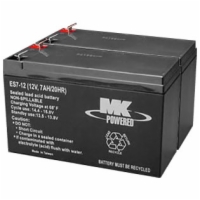 DC stair lifts or stair lifts with a battery backup need to have their batteries replaced every 18-24 months. Our stair lift replacement batteries fit nearly every stair lift that uses batteries including stair lifts from these manufacturers:
* WA and CT residents please check your local code requirements.


Why buy your stair lift from A1 Medical Supplies?
PRICE
Our prices can't be beat!




Battery Type

:

AGM

Voltage

:

12 V

Capacity

:

7 A

Terminal Type

:

F1

Sealed Battery

:

Yes

Maintenance Free

:

Yes

Approved for Public Transportation

:

Yes

Length

:

6"

Width

:

2.6"

Height

:

4"

Weight

:

5.9 lb
Each curved stair lift must be custom manufactured to suit the unique requirements of the site. The unit is manufactured to the exact dimensions of the site application as determined by the digital survey and no two applications are alike. Lifts go into factory production immediately upon submission of the order to the factory which is after customer signs off on the CAD drawing. Accordingly, AmeriGlide has a substantial investment in resources and labor and as such we have a 25% cancellation fee for any order cancelled after the measurement survey but prior to submission for production, 50% once the lift is in production. Once a custom stair lift order has been shipped it cannot be canceled or returned. The shipment cannot be refused. No refund will be made for orders of this status.
good product, great price

Jul 9, 2013 1:31 PM

Browneyes2

from

Pittsburgh, PA

would recommend this to a friend.

A Little About Myself
Pros
Cons

Product worked well.

1 of 1 person found this review helpful
Great batteries

Jun 16, 2013 3:31 PM

Rifleman1b

from

Wyoming

would recommend this to a friend.

A Little About Myself

Nurse

Pros

Fast shipping great condition on arrival

Cons

Had to wait when current batteries were dying but fast delivery time

Service & Delivery

Great

Good service

2 of 2 people found this review helpful
stair lift battery

Nov 27, 2012 10:42 AM

Cabin One Guy

from

Edgewater Florida

would recommend this to a friend.

A Little About Myself

All around repair, fixer upper guy who is growing older.

Pros

Your service was wonderful! Thanks for being there.

Cons

Ditto at pros...

1 of 1 person found this review helpful
Works great

Oct 29, 2012 10:37 AM

Rockyiv

from

Murrayville, Ga

would recommend this to a friend.

A Little About Myself

old

Pros

great

Cons

none

Service & Delivery

good

Good product
Stair Lift Batteries

Feb 13, 2012 5:35 PM

Bob F.

from

Nazareth, PA

would recommend this to a friend.

A Little About Myself

Homeowner

Pros

Batteries fit perfect. No alterations or changes were needed to make the batteries connect.

Cons

None

Service & Delivery

Fast delivery.

Fast shipping. Batteries worked great. Stair Lift works as new again.

1 of 1 person found this review helpful
Just what the Doctor ordered.

Mar 8, 2011 5:13 PM

Handyman

from

Martinez, CA

would recommend this to a friend.

A Little About Myself

60 Year-old with MS

Pros
Cons
Service & Delivery

Received batteries in three days.

I installed them myself in 10 minutes, and it seems to be working great. I hope to get at least 18 months of use out of it.

2 of 2 people found this review helpful
Chair lift batteries

Aug 11, 2010 8:07 AM

Super Grandmom

from

Blue Bell, PA

would recommend this to a friend.

A Little About Myself

72 year-old caretaker

Pros

The batteries did the job.

Cons

They came with no instructions and were not as easy to install as described.

Service & Delivery

No problem with service and delivery.

We saved a lot of money, by not buying a new stair lift, but the installation was difficult.

12 of 14 people found this review helpful