FDA Class II medical device*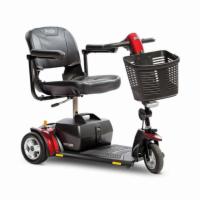 About the Pride Go-Go Elite Traveller Plus Scooter, 3 Wheel: The Pride Go-Go Elite Traveller Plus adds upgrades to the Go-Go Elite Traveller including increases in length, width, and weight capacity. Increases in length and width make the Traveller Plus more stable over uneven surfaces and in turns. A 17 amp hour battery back is also standard for increased travel range.

Traveling is incredibly easy with the Traveller Plus from loading it into your vehicle to putting it back together. To start, it has a unique lockup mechanism that allows you to separate the frame with only one hand. Also, the front to rear cable auto connects so you don't have to worry about reattaching cables. You'll never need to fear loading and unloading your Go-Go Elite Traveller Plus.

Of course portability isn't the only wonderful feature of the Go-Go Elite Traveller Plus. The microprocessor-based control manages the Traveller's power to maximum travel range and safety. When it does come time to recharge the battery pack it can be charged on or off the scooter or exchanged in a snap with a spare battery pack.

About Pride Scooters: Pride has been building scooters since 1992 with an emphasis on combining functionality with sleek styling. Moreover, every option and accessory offered on Pride scooters has been designed to meet actual customer needs and expectations.

Weight Capacity

:

300 lb

Overall Length

:

40"

Overall Width

:

21.25"

Seat Depth

:

17"

Seat Width

:

17"

Per-Charge Range, Maximum

:

14.4 mi

Maximum Speed

:

4.5 mph

Turning Radius

:

34.5"

Weight, without batteries

:

86.5 lb

Weight, with batteries

:

115.5 lb

Heaviest Piece Weight

:

32.5 lb

Disassembly

:

5 Pieces

Front Wheel Diameter

:

8"

Rear Wheel Diameter

:

9"

Ground Clearance

:

3"

Tire Type

:

Solid

Drivetrain Type

:

Sealed Transaxle

Motor Type

:

24 Volt DC

Brake Type

:

Electro-mechanical, Regenerative

Battery Type

:

Battery Pack with (2) 18 Amp

Battery Weight

:

29 lb

Battery Charger

:

Off-board, 2 Amp

Goes In Reverse

:

Yes

Freewheel Mode

:

Yes

Tiller Style

:

Delta Tiller with wrap around handles
*Pride® FDA Class II Medical Devices are designed to aid individuals with mobility impairments

Great Scooter

Sep 20, 2010 6:46 PM

John Boy

from

Long Island, New York

would recommend this to a friend.

A Little About Myself

Retired male whose over +65.

Pros

Real easy to disassemble and assemble. You don't need to be a mechanic to understand how to do it.

Cons

Each piece is relatively easy to lift but needs a healthy individual to do so. An elderly weaker individual would need help. Battery weighs about 20lbs.

Service & Delivery

From telephone order, to delivery, it took about 4 days. Ordered it on Monday & had it Thursday. Great friendly service.

My wife and I each have one. It's very helpful in getting around in large places that require a lot of walking.

1 of 1 person found this review helpful
Nice ride

Sep 12, 2010 1:50 PM

Bobby C1

from

Milwaukee

would recommend this to a friend.

A Little About Myself

Retired steel worker.

Pros

Very portable, assembles/disassembles easily, and very comfortable, I like it for these purposes.

Cons
Service & Delivery

Delivery was 3 days and extremely quick.

Excellent product, it fits my needs.

1 of 1 person found this review helpful
I would buy this product again.

Dec 18, 2009 4:36 PM

Charlie

from

Paragould, AR

would recommend this to a friend.

A Little About Myself

Elderly, Average Health

Pros

Easy Storage, Lightweight, Sturdy, Safe

Cons

None

It is great, when needing to walk a great distance.

1 of 2 people found this review helpful