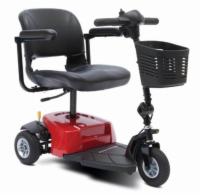 Instant Coupon Available
90 Day Parts & Optional 1 year In-Home Labor


Looking for the best in lightweight and affordable mobility scooters? Then the AmeriGlide Traveler Scooter is the absolute best option for you! This model features a lightweight frame that can quickly and easily be disassembled, making it easy to transport with you wherever you want to go. Other convenient options include a front storage basket, long-lasting batteries, and an unbeatable 275 pound weight capacity.
With the Traveler scooter you can enjoy maximum portability, perfect for anyone on the go, without having to sacrifice power and safety. The drive train system will allow you to reach a maximum speed of 4 miles per hour and the sturdy, high quality construction that will ensure that you can enjoy all your favorite outdoor activities.
Increasing your mobility and independence doesn't have to mean breaking the bank. The Traveler 3 wheel mobility scooter is an ideal solution that will address your physical and budgetary needs. Call us today to learn more about our unbeatable warranties.
NOTE: This Scooter is currently on a 30 day lead build time.

Weight Capacity

:

275 lb

Overall Length

:

37"

Overall Width

:

19.5"

Seat Depth

:

17"

Seat Width

:

18"

Per-Charge Range, Maximum

:

6.3 mi

Maximum Speed

:

4 mph

Turning Radius

:

32.75"

Weight, without batteries

:

72 lb

Weight, with batteries

:

88.5 lb

Heaviest Piece Weight

:

27.5 lb

Disassembly

:

6 Pieces

Front Wheel Diameter

:

8"

Rear Wheel Diameter

:

8"

Ground Clearance

:

2.5"

Tire Type

:

Solid

Drivetrain Type

:

Sealed Mini-Transaxle

Motor Type

:

24 Volt DC

Brake Type

:

Electromechanical

Battery Type

:

Battery Pack with (2) 12 Amp Batteries

Battery Weight

:

8 lb

Battery Charger

:

Off-board, 2 Amp

Goes In Reverse

:

Yes

Freewheel Mode

:

Yes

Tiller Style

:

Handle Bar

GO -GO IS GREAT !!!

Oct 2, 2013 5:58 PM

pistolpackinpawpaw

from

Meadville,Ms.

would recommend this to a friend.

A Little About Myself

62 years young, amputee, good-lookin' with a great personality.

Pros

All I can say is that it is just wonderful! I will be able to go with my daughter now! Great power, great looks, and easy to load into my vehicle!

Cons
Service & Delivery

Great! Actually received earlier than expected!

Improves one's life 100% !!!
AmeriGlide Traveler!!!

Apr 18, 2011 1:13 PM

A1 Medical Supplies

from

Raleigh, NC

would recommend this to a friend.

A Little About Myself
Pros

Very quick and easy to disassemble. Breaks down into 5 parts. Weighs less than 100lbs. Great price for your first scooter!

Cons

Only has 275 weight capacity. Not the biggest and fastest mobility scooter available.

For the price, this is the best scooter that we have available.

13 of 16 people found this review helpful