FDA Class II medical device*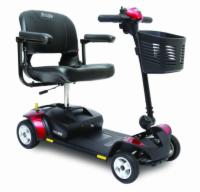 About the Pride Go-Go Elite Traveller Scooter, 4 Wheel: The Pride Go-Go Elite Traveller makes traveling with your scooter incredibly easy from loading it into your vehicle to putting it back together. To start, the Traveller has a unique lockup mechanism that allows you to separate the frame with only one hand. Also, the front to rear cable auto connects so you don't have to worry about reattaching cables. You'll never need to fear loading and unloading your Go-Go Elite Traveller.

Of course portability isn't the only wonderful feature of the Go-Go Elite Traveller. The microprocessor-based control manages the Traveller's power to maximum travel range and safety. When it does come time to recharge the battery pack it can be charged on or off the scooter or exchanged in a snap with a spare battery pack.

About Pride Scooters: Pride has been building scooters since 1992 with an emphasis on combining functionality with sleek styling. Moreover, every option and accessory offered on Pride scooters has been designed to meet actual customer needs and expectations.

Weight Capacity

:

300 lb

Overall Length

:

39.5"

Overall Width

:

19.5"

Seat Depth

:

17"

Seat Width

:

17"

Per-Charge Range, Maximum

:

6 mi

Maximum Speed

:

4 mph

Turning Radius

:

44"

Weight, without batteries

:

81 lb

Weight, with batteries

:

99 lb

Heaviest Piece Weight

:

34 lb

Disassembly

:

5 Pieces

Front Wheel Diameter

:

7"

Rear Wheel Diameter

:

8"

Ground Clearance

:

2.25"

Tire Type

:

Solid

Drivetrain Type

:

Sealed Mini-transaxle

Motor Type

:

24 Volt DC

Brake Type

:

Electro-mechanical, Regenerative

Battery Type

:

Battery Pack with (2) 12 Amp or (2) 18 Amp

Battery Weight

:

19 lb

Battery Charger

:

Off-board, 2 Amp

Goes In Reverse

:

Yes

Freewheel Mode

:

Yes

Tiller Style

:

Handle Bar
*Pride® FDA Class II Medical Devices are designed to aid individuals with mobility impairments

Grandson to Disneyworld

Jun 6, 2012 8:00 PM

Fatboy

from

Utah

would recommend this to a friend.

A Little About Myself

Disabled, Fat,

Pros

Great scooter. Lasted all day at DisneyWorld with no slowdown. Kids had a hard time keeping up at full throttle. Saved my trip, couldn't have made it without it. I weighed 300 lbs. when I went and it worked perfectly. I lived out on a farm in Kansas and after I got back it was worthless in the country. Did what I needed it for and not expensive from these guys.

Cons

Batteries died after about a year, but I wasn't using it. Can't unload it from RV without help. I probably didn't take proper care of the batteries. I will see how long these ones I got today last.

Service & Delivery

No complaints

I live in town now and have bought new batteries on Amazon and am looking forward to using it around the neighborhood and with my Grandchildren. Great value and works as well as more expensive ones. Like I said, I put a lot of miles on it at Disneyworld and enjoyed the hell out of it. Would recommend it to folks who have to pay for their own without insurance. Medicare restrictions require you to be almost bedridden to get one, luckily I could afford this one and it has been a blessing. Quality, semi-portable, easily taken apart and assembled. Can't beat it for the money. I was amazed at the amount of use on one charge, I mean I ran the wheels off of it at Disneyworld and it never faltered. Quite a test carrying 300 pounds and a pack full of drinks, rain gear, sunscreen and whatever I could cram in it. Also had the basket filled.

1 of 1 person found this review helpful