FDA Class II medical device*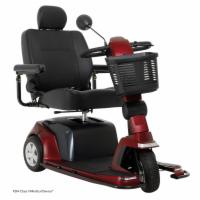 Whether you choose the 3 wheel or 4 wheel version of the Maxima you will be getting true heavy-duty scooter performance. A 500 pound weight capacity is just the start for the Maxima. An ultra heavy-duty drive train has been added to make sure you can take advantage of your Maxima far into the future. The 26 inch wide platform is very stable as well. 3 wheel models come with front and rear anti-tip wheels and 4 wheel models are equipped with rear anti-tip wheels to further increase safety.

The Maxima offers you other features as well, such as: a durable rear bumper, flat-free tires, full light package, an adjustable tiller, a front basket, and plush seating. When you need a high performance heavy-duty scooter look no further than the Maxima.

Weight Capacity

:

500 lb

Overall Length

:

47"

Overall Width

:

25.5"

Seat Depth

:

18.5"

Seat Width

:

22"

Per-Charge Range, Maximum

:

18 mi

Maximum Speed

:

5.8 mph

Turning Radius

:

49"

Weight, without batteries

:

183.5 lb

Weight, with batteries

:

256.5 lb

Heaviest Piece Weight

:

66.5 lb

Disassembly

:

7 Pieces

Front Wheel Diameter

:

10"

Rear Wheel Diameter

:

10"

Ground Clearance

:

4.25"

Tire Type

:

Solid

Drivetrain Type

:

Sealed Transaxle

Motor Type

:

24 Volt DC

Brake Type

:

Electro-mechanical, Regenerative

Controller Type

:

Ultra Heavy Duty 110 Amp

Battery Type

:

(2) 22NF or (2) U-1

Battery Weight

:

76 lb

Battery Charger

:

Off-board, 5 Amp

Goes In Reverse

:

Yes

Freewheel Mode

:

Yes

Tiller Style

:

Handle Bar
*Pride® FDA Class II Medical Devices are designed to aid individuals with mobility impairments

A nice, practical scooter.

Feb 18, 2011 6:33 PM

Mike C

from

NW Illinois

would not recommend this to a friend.

A Little About Myself

Retired. I have legs that hate life, but the rest of me will never stop moving and enjoying the world.

Pros

The Pride Maxima is a little shorter in length than my previous 2 scooters, which allows me to load it inside of my Chevrolet. The Maxima combined with the particular lift I purchased is the only combination that would fit. The knobs for adjusting the width of the arms is a good provision. Previously I had to use an Allen wrench and remove 2 bolts in each arm. I have received compliments on the appearance and am overall pleased with the product.

Cons

A-1's differing price quotes and the total of a full month between order, charging my credit card and final delivery were a major disappointment. I waited a couple of weeks without any contact from A-1. This does not leave me satisfied with the customer service.

Service & Delivery

Brandt Trucking Company called about an hour prior to delivery, and the driver was on time and very professional.

The notice I received in email of a pending delivery date included a reference number and the name of the trucking company and but no explanation of how to use the reference number. By the time I read an email explanation to access the tracking, the chair had been delivered. Your "bottom line" choice, due to difficulties with A-1 I would hesitate to recommend them as a source. I have no problem with recommending Pride.

5 of 6 people found this review helpful