FDA Class II medical device*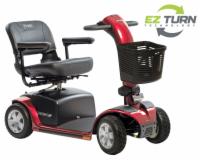 About the Pride Victory 10 Scooter, 4 Wheel: The Pride Victory 10 is the hottest scooter on the market. Fresh with low profile, non-marking solid tires and high-intensity LED headlights hat don't drain the battery, the Victory 10 is tremendously refined.

All of these refinements mean peak performance as well. The Victory 10 moves quickly yet has a 400 pound capacity. In addition, the Victory 10 incorporates an easy-to-read LED battery meter, a Delta-style tiller with wraparound handles, and an improved seat with 8-position seat rotation. And a single-point lockup system makes taking the Victory 10 apart a snap.

About Pride Scooters: Pride has been building scooters since 1992 with an emphasis on combining functionality with sleek styling. Moreover, every option and accessory offered on Pride scooters has been designed to meet actual customer needs and expectations.

Weight Capacity

:

400 lb

Overall Length

:

47"

Overall Width

:

22.25"

Seat Depth

:

17"

Seat Width

:

18"

Per-Charge Range, Maximum

:

16 mi

Maximum Speed

:

5.3 mph

Turning Radius

:

54"

Weight, without batteries

:

137 lb

Weight, with batteries

:

185 lb

Heaviest Piece Weight

:

61 lb

Disassembly

:

5 Pieces

Front Wheel Diameter

:

10"

Rear Wheel Diameter

:

10"

Ground Clearance

:

3"

Tire Type

:

Solid

Drivetrain Type

:

Sealed Transaxle

Motor Type

:

24 Volt DC

Brake Type

:

Electro-Mechanical, Regenerative

Battery Type

:

(2) U-1 or (2) 40 Amp

Battery Weight

:

49 lb

Battery Charger

:

Off-board, 3-Amp

Goes In Reverse

:

Yes

Freewheel Mode

:

Yes

Tiller Style

:

Delta Tiller with wrap around handles
*Pride® FDA Class II Medical Devices are designed to aid individuals with mobility impairments

Could not be happier

Jun 7, 2013 3:46 PM

Dr. Vince

from

301 Chestnut Street, Harrisburg, PA

would recommend this to a friend.

A Little About Myself

Retired educator and consultant, disabled but feisty.

Pros

Dave Gibson is the best damn salesman I have EVER worked with on a large purchase such as this. He was attentive to my needs every step of the way! Everything was done on time. Steve Elliot hooked up the scooter and it is literally a godsend. Good Job, Guys!

Cons
Service & Delivery

On time. Professional and curteous

Somebody needs to give Dave Gibson a big fat raise! Any takers out there?
Pride Victory 10 scooter

Sep 26, 2010 6:06 PM

Big Jack

from

California

would recommend this to a friend.

A Little About Myself

Retired, 77 year-old with COPD.

Pros

It was up to my expectations and so far like it real well.

Cons

Would have liked a higher ground clearance.

Have recommended this scooter to friends.