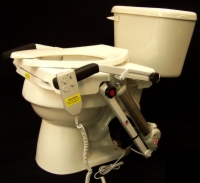 2 year limited. Optional batteries 1 year. Paint not covered.


About the Tush Push Toilet Seat Lift: Like a great comedian, the Tush Push Toilet Seat Lift sounds funny. And like a great comedian, underneath its humorous shell is a professional who has worked hard for years to become the best.

The Tush Push is a portable electric toilet lift which has become known for its dependability, safety, and strength. Its lifting action is controlled by a touch control handset and has been honed so that it lifts in a natural motion, making getting on and off a breeze. What is even more amazing is that all this ability comes in a package which easy to install on most toilets. And finally, the Tush Push's adjustable and removable arms place it a step above even the most talented comedian.

325 pound weight capacity. Made in the USA.

Seat Width

:

14"

Minimum Seat Height

:

19"

Maximum Seat Height

:

26"

Unit Weight

:

34 lb

Weight Capacity

:

325 lb

Overall Width

:

25"

Warranty

:

2-year limited

Arms Included

:

Yes

Arm Style

:

Removable

Stand-Alone Unit

:

No

Arm Support Height

:

36"

A well built, quality product

Feb 21, 2010 12:50 PM

Gene

from

Wichita, KS

would recommend this to a friend.

A Little About Myself

Caregiver

Pros

Easy to install. Safe & Sturdy.

Cons

This is a sturdy well built seat that installs in less than 10 minutes.

3 of 4 people found this review helpful