FDA Class II medical device*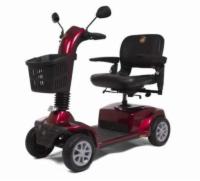 About the Golden Companion II Scooter, 4 Wheel: The Golden Companion II is a full-size scooter that offers a fantastic blend of style, power, and reliability. Indoors or out, you will find that the Companion II has a tight turning radius, yet is quite stable over rough surfaces. The Companion II disassembles into several lightweight components to make transportation easy and an on-board self diagnostics system makes owning it even easier.

About Golden Scooters: Every Golden scooter is built with a sealed transaxle, 24 volt DC motor, and a dynamic electromechanical brake system. In addition, Golden offers a wide range of accessories so that you get the most out of the years spent on your scooter.

Weight Capacity

:

400 lb

Overall Length

:

47.5"

Overall Width

:

23.5"

Seat Depth

:

16"

Seat Width

:

18"

Per-Charge Range, Maximum

:

18.9 mi

Maximum Speed

:

5.3 mph

Turning Radius

:

56.5"

Weight, without batteries

:

152 lb

Weight, with batteries

:

194 lb

Heaviest Piece Weight

:

74 lb

Disassembly

:

5 Pieces

Front Wheel Diameter

:

10.75"

Rear Wheel Diameter

:

10.75"

Ground Clearance

:

2.5"

Tire Type

:

Solid, Non-Marking

Drivetrain Type

:

Sealed Transaxle

Motor Type

:

24 Volt DC

Brake Type

:

Dynamic/Electro-mechanical

Controller Type

:

90 Amp

Battery Type

:

U-1 x2

Battery Weight

:

42 lb

Battery Charger

:

Off-board

Goes In Reverse

:

Yes

Freewheel Mode

:

Yes

Tiller Style

:

Delta Tiller
*Golden Technologies FDA Class II Medical Devices are designed to aid individuals with mobility impairments

My Golden Companion II Scooter.

Feb 27, 2011 11:34 PM

William the ride around man.

from

Houston, Texas

would recommend this to a friend.

A Little About Myself

I try to incorporate as much as I can, in the least amount of time.

Pros

I like the handling. Also the seat comfort as well as the added rear view mirrors.

Cons

Could use a little higher top end speed but its only for those who are pretty familiar with the traffic.

Service & Delivery

The delivery man gave me a good way of dealing with the unloading and placing the electric scooter inside my home. As a matter of fact he was in full control with no hangups.

Was easy to assemble, and was very nice in the light up tiller design.

3 of 4 people found this review helpful
Love it and would recommend it to others.

Feb 9, 2010 8:59 PM

Pat the speeder

from

Hickory, NC

would recommend this to a friend.

A Little About Myself

Elderly of average health.

Pros

Lightweight. Easy Storage. Sturdy. Safe.

Cons

Good seat. Good speed. Easy on and off buttons. Awesome lights for safety. Love the basket with handle. Good size for comfort. Comfortable footrests and floormat.

3 of 4 people found this review helpful