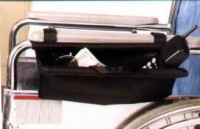 About the Armrest Pocket Bag: The Armrest Pocket Bag is small enough to attach to manual wheelchairs without getting in the way of the wheels but is large enough to store items such as keys, cell phones, and wallets.

About Diestco Accessories: Diestco manufactures "products that make life a little easier for people who use scooters, wheelchairs, and walkers." That's all that Diestco does, and they do it extremely well. Every accessory has been developed in response to actual customer needs and customer feedback so you can rest assured that you are getting a stellar product.

Attaches to manual wheelchairs
Will not interfere with wheel operation
Perfect for keys, cell phones, wallets, etc.
Size: 11" x 3" x 3"