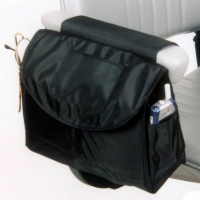 About the Deluxe Saddle Bag: The Deluxe Saddle Bag is a three pocket bag. One main pocket plus a side pocket and a zippered interior pocket make it easy to keep your valuables organized.

About Diestco Accessories: Diestco manufactures "products that make life a little easier for people who use scooters, wheelchairs, and walkers." That's all that Diestco does, and they do it extremely well. Every accessory has been developed in response to actual customer needs and customer feedback so you can rest assured that you are getting a stellar product.

Attaches to the armrest of your scooter or wheelchair
Features side pockets and a zippered interior pocket
Gives you a convenient storage area
"Soft to the skin" mounting system

Size: 10" x 8" x 3"

All Great but One Thing

Aug 12, 2013 11:23 AM

Emmy

from

Wabash, IN

would not recommend this to a friend.

A Little About Myself

Sports-minded, handicapped, inquisitive, neat, organized, and OLD

Pros

Well organized, small, fits well on power chair arm.

Cons

Flap either needs velcro on both sides or needs something stiff inside to hold it closed better.

Service & Delivery

Excellent

Each side of flap sticks up like ears for lack of body in flap, thus allowing it to come open too easily. If possible, one end pocket could be large enough for a water bottle.

1 of 1 person found this review helpful
too small

Aug 1, 2012 10:24 AM

bag man

from

nyack, ny

would recommend this to a friend.

A Little About Myself

Disabled

Pros

Does what it said

Cons

A little too small for me. No place for a bottle of water. The external pockets are too small for it. One could be bigger to hold it.

Service & Delivery

OK

I should have chosen a bag that would have provided this pocket!

1 of 2 people found this review helpful
Very handy bag

May 12, 2011 2:59 AM

Daybreak is happy

from

Bothell

would recommend this to a friend.

A Little About Myself

Female wishing to be able to get around more with ease.

Pros

Very nice pouch, to hold important things, and I don't need to use a separate purse.

Cons

Attaching it, is a little problematic.

Service & Delivery

Good service.

Very glad I got this!

3 of 3 people found this review helpful