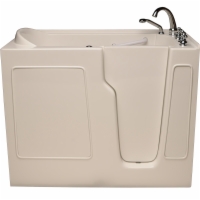 About the Sanctuary Walk-In Tub: The Sanctuary Walk-In Tub can be placed in your bathroom to provide a safer alternative to using an ordinary bathtub. These bathtubs are excellent for people with limited mobility because you only need to cover a step height of 6.25 inches when entering through the swing-in doorway. These models have an ADA-compliant 17-inch bench seat, allowing users to bathe without lowering themselves all the way down to ground level.
About Sanctuary Walk-In Tubs: Sanctuary Walk-In Tubs is dedicated to providing safe bathing enjoyment to a wider range of people through innovative designs. Low step heights, ADA compliant seat heights, and a range of door types mean that nearly anyone can enjoy a safe, comfortable bath again.

Door Type

:

Inward Swinging

Seat Height

:

17"

Step Height

:

6.25"

Tub Material

:

7 Layer Fiberglass with Marine Grade Resin

Tub Finish

:

3 Layer Marine Grade Gel Coat

Enclosed On

:

Front Only, Optional Side Panels

Extension Panel Included

:

Yes

Faucets Included

:

Yes

Stainless Steel Frame

:

Yes

Grab Bar

:

Yes

Overflow Drain

:

Yes

Adjustable Leveling Feet

:

Yes

Water Jet Option

:

Yes

Air Jet Option

:

Yes

Dual Water & Air Jet Option

:

Yes

Size

: 28" W x 48" L x 37.5" H - 40 Gallons
26" W x 53" L x 37.5" H - 38 Gallons
29.25" W x 54" L x 37.5" H - 40 Gallons
31.25" W x 50" L x 37.5" H - 40 Gallons

Sanctuary Walk-In Tub is a Dream!

Feb 28, 2011 4:13 PM

Custom Solid Oak Owner

from

Deckerville, MI

would recommend this to a friend.

A Little About Myself
Pros
Cons
Service & Delivery

The product was shipped to me quickly! I was impressed with how careful the company was with packaging and ensuring that my purchase was delivered promptly, and handled with extreme care.

The walk-in tub is efficient and can be easily installed. The customer service through A 1 Medical Supplies was outstanding and after much consideration and price matching, A 1 had the best deal on the product I was looking for!