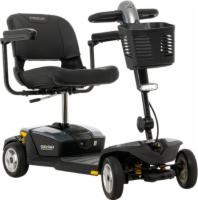 Battery performance defines the Go-Go Endurance Li Mobility Scooter. With lithium technology, you'll charge your batteries faster, achieve longer battery life, and experience greater reliability from one of Pride's most popular mobility scooter lineups.

Lithium batteries, the same technology used to power your smartphone and electric vehicles, pack more power into smaller, lighter units. The Go-Go Endurance Li comes with the standard 8 amp hour battery, which is safe to carry onto a plane.

Since you'll be riding further, the Go-Go Endurance Li includes Pride's Comfort-Trac Suspension with powerful coil springs at each tire. You can endure more varied terrain on 8-inch, non-marking tires. The Go-Go Endurance also offers a weight capacity up to 325 pounds.

Finally, we couldn't call it a "Go-Go" without the portability features that give you mobility at every destination. Feather-touch disassembly means you can disassemble it effortlessly.