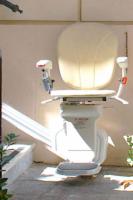 Now you can enjoy all the same great features of the peerless Horizon stair lift in an outdoor version that is built to be weather and waterproof and is the perfect option to help you overcome outdoor obstacles. Whether you are looking for help climbing the porch stairs to your home or want a safe way to gain access to your yard and other outdoor spaces, the Horizon Plus Outdoor Stair Lift solve your outdoor mobility problems.
Standard features include:
Ergonomic joystick located in the armrest
Digital diagnostic display for real time information
Security key switch that will prevent unauthorized users from accessing your chair
Swivel seat for safe and easy dismounts
Horizon Outdoor Stair Lifts are equipped with additional safety features that will prevent your stair lift from being damaged by weather conditions. The waterproof cover protects both the seat and carriage, ensuring that your lift is always clean, dry, and ready to use. The included rubber foot mat will provide extra traction to help prevent falls. Most importantly, all electronic components and controls have been thoroughly insulated and protected so that your chair will continue to operate at an optimal level for many years to come.
Call us today to find learn more about the innovative and affordable Horizon Plus Outdoor Stair Lift. Our experts are ready to answer all of your questions and get you started on the road to greater freedom and mobility. Also, don't forget to ask about our unbeatable warranties!
NOTE: Outdoor Stair Lifts are not built to be operated in snow, ice, or inclement weather and may require maintenance (lubrication, switch inspection, and steel component inspection) multiple times per year depending on the conditions to which they are exposed. The steel components are subject to rust and can degrade rapidly depending on their exposure to weather.