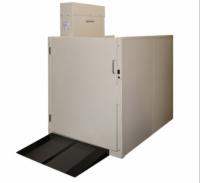 With the AmeriGlide Hercules Toe Guard Commercial Vertical Lift, there are almost no limits to who can enjoy the power and convenience of a vertical platform lift. This unique new model was especially designed to accommodate buildings where it may not be possible to install a hoistway.
Unlike other available models, the Hercules Toe Guard is completely self-contained. The lower landing is enclosed and the lift comes standard with a safety door that only opens once the lift has safely arrived at the landing. These features combine to offer a lift that can be easily installed in existing sites, making it easier than ever for commercial spaces to provide mobility tools for employees and visitors. Even without the hoistway, this powerful VPL still offers a smooth ride and an impressive 750 pound weight capacity.
To learn more about how this innovative VPL can transform your workplace, call us today.