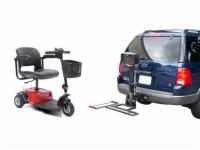 Now you can enjoy additional savings over our already low prices when you purchase the AmeriGlide Traveler Companion Vehicle Lift/Scooter Lift Package. Save money when you purchase both the Traveler Travel Scooter and the Traveler Companion Vehicle lift. These lightweight mobility devices combine to offer you the best in value and versatility.
The Traveler Travel Scooter is a 3-wheel model that is compact and comes with a tight turning radius that will help you maneuver around sharp corners and through narrow spaces. It features a sleek and sporty design and comes with a powerful drive train system and long-lasting batteries that will help you traverse indoor and outdoor spaces for hours at a time.
Need an affordable way to take your Traveler Scooter with you wherever you go? The Traveler Companion Vehicle lift has been specially designed to carry a variety of compact scooters, is versatile enough to work with any vehicle or trailer hitch class and is one of the few available models that can be installed on compact vehicles. It also comes with an open platform design, which means that you will not have to settle for reduced visibility out of your rear window.
With the AmeriGlide Traveler Companion Vehicle Lift/Scooter Lift Package you don't have to worry about matching your scooter and vehicle with the right lift. We have done the work for you! Call us today to get this incredible deal and start enjoying greater freedom and mobility in no time at all!
NOTE: Hitch Not Included