FDA Class II medical device*
Lift Chair Assistant
Answer a few questions
and our lift chair assistant will narrow down your selection.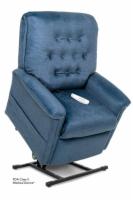 The Pride LC-358XL lift chair recliner is a 3 position extra large chaise lounger. This is a heavy duty model with a weight capacity of 500 pounds. Being part of the Pride Gentle Line, the LC-358XL has a patented lift system that is both smooth and quiet. This lift chair offers many different fabrics to choose from as well as superior strength which will let your lift chair match almost any setting and give it the durability to last. The GL-358XL also has many standard features which all come at a great value.

Recline Positions

:

3

Back Type

:

Removable Button (Firm)

Weight Capacity

:

500 lb

Chaise Seat

:

Yes

Minimum Recommended Height

:

5' 6"

Maximum Recommended Height

:

6' 1"

Overall Width

:

39.5"

Floor to Top of Seat

:

20"

Seat Depth

:

22"

Seat Width

:

26"

Seat to Top of Back

:

29"

Distance Required from Wall Reclined

:

19"

Battery Back Up

:

Yes

Head Rest Cover Included

:

No

Arm Covers Included

:

No

Left Hand Control Available

:

Yes

Heat & Massage Option Available

:

Yes

Foot Rest Extension Option Available

:

No

Fire Retardant (California Specifications; bulletin 117)

:

Yes

Warranty

:

7-Year pro-rated, Lift Mechanism: Lifetime
*Pride® FDA Class II Medical Devices are designed to aid individuals with mobility impairments

FINALLY FOUND THE PERFECT CHAIR

Aug 13, 2013 11:05 PM

kit_kat

from

Arkansas

would recommend this to a friend.

A Little About Myself

I have mobility issues and standing from a seated position was very difficult.

Pros

Packaged well in sturdy box. Instructions for assembly very easy to understand but not necessary as assembly was a snap (complete within 15 minutes). Chair is VERY attractive and extremely comfortable and works smoothly.

Cons

Haven't found any cons as yet.

Service & Delivery

The salesman at A1 Medical Supply was professional and personable. He helped us pick the right chair for ME. Very positive experience. Delivery was pretty quick and in a timely fashion.

The chair is absolutely great. VERY easy to put together and so very attractive. It's so comfortable I often fall asleep when reclined! Works smoothly and quietly.
Lift chair

Feb 25, 2013 5:52 AM

Big man

from

Morganton NC

would recommend this to a friend.

A Little About Myself

Heavy set - have trouble walking

Pros

Love my lift chair

Cons
Service & Delivery

GREAT

Thanks for your concerns and help to get me the chair
It does what supposed to do.

May 6, 2010 3:46 PM

Margaret

from

Owasso, Oklahoma

would recommend this to a friend.

A Little About Myself
Pros
Cons

It does what it was designed to do. It does not necessarily sit well so it is not the most comfortable chair.
"Great product, I would purchase again"

Jan 7, 2010 9:01 PM

One day at a time...

from

Micanopy, FL

would recommend this to a friend.

A Little About Myself

Cancer Patient

Pros

Sturdy, Safe

Cons

I was diagnosed with Cancer in December of 2007, after surgery I had about a year and half of treatment and developed severe Osteoarthritis in my left knee from the radiation and chemotherapy. I have been sleeping in a recliner since that time because I could not lie in a bed without making my knee worse. When I went for my six month check up the cancer had spread to another area and I had to have radiation again. Now my right knee is starting to hurt more. I had trouble getting in and out of the recliner due to my knees and this reclining lift chair has been a life saver. I can now get in and out of my chair with more ease, and am able to do more as I work on getting better.

2 of 2 people found this review helpful
I highly recommend this chair for anyone.

Dec 21, 2009 1:04 PM

Lenny

from

Valrico, Florida

would recommend this to a friend.

A Little About Myself

Elderly, with bad back and breathing problems.

Pros

Sturdy and very comfortable.

Cons

Heavy, hard and bulky for one person to move.

I have enjoyed this chair as I sleep in it also, and use it for my legs to keep up due to poor circulation.

3 of 3 people found this review helpful