Lift Chair Assistant
Answer a few questions
and our lift chair assistant will narrow down your selection.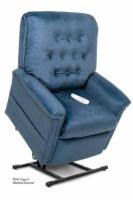 About the GL-358XL Heritage Collection Lift Chair: The GL-358XL is a heavy-duty 3-position lift chair with an extra-wide seat. It combines comfort, performance, and styling into an affordable package. An overstuffed blown-fiber button back gives it the perfect blend of comfort and support while the heavy-duty lift actuator and scissor mechanism provide the durability you expect. An integrated battery backup provides peace-of-mind in the event of a power failure. 500 lb. weight capacity.

Recline Positions

:

3

Back Type

:

Removable Button (Firm)

Weight Capacity

:

500 lb

Chaise Seat

:

Yes

Minimum Recommended Height

:

5' 6"

Maximum Recommended Height

:

6' 1"

Overall Width

:

39.5"

Floor to Top of Seat

:

20"

Seat Depth

:

22"

Seat Width

:

26"

Seat to Top of Back

:

29"

Distance Required from Wall Reclined

:

18"

Battery Back Up

:

Yes

Head Rest Cover Included

:

Yes

Arm Covers Included

:

Yes

Left Hand Control Available

:

Yes

Heat & Massage Option Available

:

Yes

Foot Rest Extension Option Available

:

No

Fire Retardant (California Specifications; bulletin 117)

:

Yes

Warranty

:

7-Year pro-rated, Lift Mechanism: Lifetime

FINALLY FOUND THE PERFECT CHAIR

Aug 13, 2013 11:05 PM

kit_kat

from

Arkansas

would recommend this to a friend.

A Little About Myself

I have mobility issues and standing from a seated position was very difficult.

Pros

Packaged well in sturdy box. Instructions for assembly very easy to understand but not necessary as assembly was a snap (complete within 15 minutes). Chair is VERY attractive and extremely comfortable and works smoothly.

Cons

Haven't found any cons as yet.

Service & Delivery

The salesman at A1 Medical Supply was professional and personable. He helped us pick the right chair for ME. Very positive experience. Delivery was pretty quick and in a timely fashion.

The chair is absolutely great. VERY easy to put together and so very attractive. It's so comfortable I often fall asleep when reclined! Works smoothly and quietly.
Lift chair

Feb 25, 2013 5:52 AM

Big man

from

Morganton NC

would recommend this to a friend.

A Little About Myself

Heavy set - have trouble walking

Pros

Love my lift chair

Cons
Service & Delivery

GREAT

Thanks for your concerns and help to get me the chair
It does what supposed to do.

May 6, 2010 3:46 PM

Margaret

from

Owasso, Oklahoma

would recommend this to a friend.

A Little About Myself
Pros
Cons

It does what it was designed to do. It does not necessarily sit well so it is not the most comfortable chair.
"Great product, I would purchase again"

Jan 7, 2010 9:01 PM

One day at a time...

from

Micanopy, FL

would recommend this to a friend.

A Little About Myself

Cancer Patient

Pros

Sturdy, Safe

Cons

I was diagnosed with Cancer in December of 2007, after surgery I had about a year and half of treatment and developed severe Osteoarthritis in my left knee from the radiation and chemotherapy. I have been sleeping in a recliner since that time because I could not lie in a bed without making my knee worse. When I went for my six month check up the cancer had spread to another area and I had to have radiation again. Now my right knee is starting to hurt more. I had trouble getting in and out of the recliner due to my knees and this reclining lift chair has been a life saver. I can now get in and out of my chair with more ease, and am able to do more as I work on getting better.

2 of 2 people found this review helpful
I highly recommend this chair for anyone.

Dec 21, 2009 1:04 PM

Lenny

from

Valrico, Florida

would recommend this to a friend.

A Little About Myself

Elderly, with bad back and breathing problems.

Pros

Sturdy and very comfortable.

Cons

Heavy, hard and bulky for one person to move.

I have enjoyed this chair as I sleep in it also, and use it for my legs to keep up due to poor circulation.

3 of 3 people found this review helpful