FDA Class II medical device*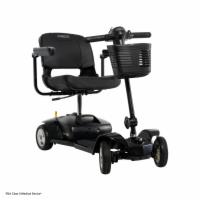 About the Pride Go-Go Ultra X Travel Scooter, 4 Wheel: The Pride Go-Go Ultra X gives you more bang for the buck than other travel scooters. Starting with an ultra-portable design that eliminates wires for easy disassembly and reassembly, the Ultra X takes the hassle out of traveling with your scooter. Its 5 piece design is ideal for lifting and storing into even the smallest vehicles. In addition, the Ultra X uses a battery pack that simply drops in. You can even purchase an additional battery pack to keep you going all day by swapping the battery packs in and out.

About Pride Scooters: Pride has been building scooters since 1992 with an emphasis on combining functionality with sleek styling. Moreover, every option and accessory offered on Pride scooters has been designed to meet actual customer needs and expectations.

Weight Capacity

:

260 lb

Overall Length

:

39.5"

Overall Width

:

19"

Seat Depth

:

17"

Seat Width

:

17"

Per-Charge Range, Maximum

:

7.2 mi

Maximum Speed

:

4 mph

Turning Radius

:

26.75"

Weight, without batteries

:

80 lb

Weight, with batteries

:

98 lb

Heaviest Piece Weight

:

34 lb

Disassembly

:

5 pieces

Front Wheel Diameter

:

7"

Rear Wheel Diameter

:

8"

Ground Clearance

:

2"

Tire Type

:

Solid

Drivetrain Type

:

One-motor, rear-wheel drive

Motor Type

:

24 Volt DC

Brake Type

:

Electromechanical, Regenerative

Battery Type

:

Battery Pack with (2) 12 Amp Batteries

Battery Weight

:

20 lb

Battery Charger

:

Off-board, 2 Amp

Goes In Reverse

:

Yes

Freewheel Mode

:

Yes

Tiller Style

:

Handle Bar
*Pride® FDA Class II Medical Devices are designed to aid individuals with mobility impairments