FDA Class II medical device*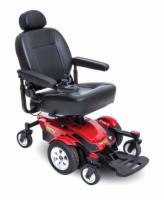 About the Pride Jazzy Select: The Pride Jazzy Select is truly a cut above. Active-Trac suspension gives the Jazzy Select a solid base that remains stable as it travels over uneven surfaces. And travel it will, because the Jazzy Select uses an in-line motor technology for efficient battery use while maximizing torque. Should the Jazzy Select ever need maintenance, you will also appreciate how the Jazzy Select has been designed with tool-less front panel access and side access batteries.

The Jazzy Select 6 uses 10 inch drive wheels and 6 inch casters front and rear. These front casters are in continuous contact with the ground. This helps eliminate lurching when you begin to move forward. The Select 6 also come with a charger port under the controller, an updated footplate design, and a seat that can swivel.

About Pride Power Wheelchairs: Pride Mobility manufactures the best known power wheelchairs in the business including the Jazzy, Jet, and Go-Chair lines. Jazzy chairs are known for their style, maneuverability, and natural feel and these characteristics have been engineered into every power wheelchair that Pride makes.

Weight Capacity

:

300 lb

Overall Length

:

35.625"

Overall Width

:

23.5"

Range

:

15 mi

Top Speed

:

4 mph

Turning Radius

:

20.5"

Ground Clearance

:

2"

Weight, Total

:

186 lb

Weight, Base

:

100 lb

Weight, Seat

:

37 lb

Weight, Batteries

:

49 lb

Drive Wheels

:

10" Solid

Caster Wheels

:

6" Solid

Controller Type

:

PG GC, 40 Amp

Charger Type

:

Off-board

Battery Type

:

U-1 x 2
*Pride® FDA Class II Medical Devices are designed to aid individuals with mobility impairments