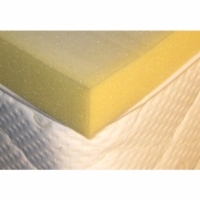 About Memory Foam Mattress Toppers: A Memory Foam Mattress Topper can be placed onto your existing mattress to turn a hard, uncomfortable mattress into a more supportive sleep surface. The special properties of visco memory foam eliminate stress on joints and muscles and provide essential support to your head, neck, and back. Get a better night's rest now with a Memory Foam Mattress Topper!

5 Pound Memory Foam Properties: 5 pound memory foam is the most dense memory foam that we sell. It will give you the firmest feel and is also better for larger individuals.

2" Memory Foam Properties: 2" memory foam is the thinnest memory foam that we sell. Because it is thinner you will not sink in as much when you lie on it and is suited to individuals who sleep on their stomachs.

Adjusts to your body's temperature
Molds to your body's shape thereby distributing your weight evenly across the mattress
Helps eliminate pressure points at the shoulders and hips
Makes sleep more restful by reducing tossing and turning