Lift Chair Assistant
Answer a few questions
and our lift chair assistant will narrow down your selection.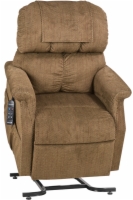 About the MaxiComfort PR505S:
The PR505S is an infinite-position lift chair with a 300 lb. weight capacity. It features a seam-back design, integrated battery backup, and the great comfort provided by MaxiComfort technology. MaxiComfort technology gives you a chair that has more positions than any other chair. And more positions equals more comfort for you. Additionally, the PR505S's hand control includes the "Smart Tek" system that allows you to diagnose any problems quickly and easily.
About Golden's MaxiComfort Technology:
MaxiComfort represents a true evolution in lift chair comfort. Based on NASA research, the MaxiComfort allows you to recline into a zero gravity position. This is the position where your legs are elevated above your heart, creating an open angle between your torso and thighs. Benefits include:
Correct Spinal Alignment
Back Pressure Relief
Expanded Lung Capacity
Improved Circulation

Recline Positions

:

Zero Gravity

Back Type

:

Seam

Weight Capacity

:

300 lb

Chaise Seat

:

Yes

Minimum Recommended Height

:

5'

Maximum Recommended Height

:

5' 3"

Overall Height

:

40"

Overall Width

:

31.5"

Floor to Top of Seat

:

19"

Seat Depth

:

19.5"

Seat Width

:

20"

Seat to Top of Back

:

25"

Seat to Top of Arm

:

6"

Floor to Back Edge of Seat Raised

:

27.5"

Floor to Front Edge of Seat Raised

:

24"

Seat Angle Raised

:

15°

Floor to Top of Foot Rest Reclined

:

23"

Floor to Top of Back Reclined

:

32"

Back Angle Closed

:

100°

Back Angle Reclined

:

174°

Foot Rest Angle Closed

:

90°

Foot Rest Angle Opened

:

180°

Distance Required from Wall Reclined

:

22"

Battery Back Up

:

Yes

Head Rest Cover Included

:

Yes

Arm Covers Included

:

Yes

Left Hand Control Available

:

Yes

Heat & Massage Option Available

:

Yes

Foot Rest Extension Option Available

:

Yes

Fire Retardant (California Specifications; bulletin 117)

:

Yes

Warranty

:

Lifetime Chair Frame, Lift Frame, and Recline Mechanisms, 3-Year Electrical Parts, 1-Year Mechanical Labor, 1-Year Electrical Labor

I would recommend this chair to others.

Apr 28, 2010 5:13 PM

Grammy

from

Langhorne, PA

would recommend this to a friend.

A Little About Myself

Average Health

Pros

Safe, Sturdy, & Lightweight

Cons

I use the chair for comfort and relaxation. I have MS and have trouble getting comfortable. Now, I am able to recline, elevate my feet, and sleep, if I choose. I have never been able to use a recliner because I am small and not very strong. This chair is easy to operate.

11 of 11 people found this review helpful