FDA Class II medical device*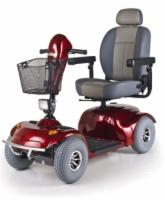 About the Golden Avenger Heavy Duty Scooter, 4 Wheel: The Golden Avenger combines luxury scooter features with heavy duty performance. This means customers up to 500 pounds will be able to enjoy the Avenger's large contoured seat with adjustable head rest and extra long arms. Go where you want on the Avenger as well, because it has a large ground clearance and oversize mag wheels with rugged tires. To top it all off, the Avenger comes equipped with safety lights and a removable basket.

About Golden Scooters: Every Golden scooter is built with a sealed transaxle, 24 volt DC motor, and a dynamic electromechanical brake system. In addition, Golden offers a wide range of accessories so that you get the most out of the years spent on your scooter.

Weight Capacity

:

500 lb

Overall Length

:

57.5"

Overall Width

:

24.6"

Seat Depth

:

17"

Seat Width

:

20"

Per-Charge Range, Maximum

:

18 mi

Maximum Speed

:

7 mph

Turning Radius

:

67"

Weight, without batteries

:

190 lb

Weight, with batteries

:

267 lb

Heaviest Piece Weight

:

66 lb

Disassembly

:

3 Pieces

Front Wheel Diameter

:

13"

Rear Wheel Diameter

:

13"

Ground Clearance

:

4"

Tire Type

:

Pneumatic

Drivetrain Type

:

Sealed Transaxle

Motor Type

:

24 Volt DC, 4 Poles

Brake Type

:

Electro-mechanical

Controller Type

:

PG 110 Amp, Programmable

Battery Type

:

(2) 12 Volt, 55 Amp, 22NF

Battery Weight

:

77 lb

Battery Charger

:

Off-board 5 Amp

Goes In Reverse

:

Yes

Freewheel Mode

:

Yes

Tiller Style

:

Handle Bar
*Golden Technologies FDA Class II Medical Devices are designed to aid individuals with mobility impairments