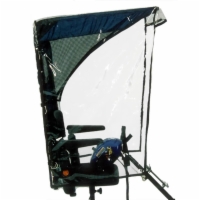 About the Max Protection WeatherBreaker Canopy: WeatherBreaker Canopies are well known because they work well. A WeatherBreaker Canopy protects you from the sun and rain like no other canopy can and mounts to more makes and models of scooters and power wheelchairs than any other.

The Max Protection model has mesh sides and a rear mesh window with removable cover plus a drop over side plastic enclosure for superior protection.

About Diestco Accessories: Diestco manufactures "products that make life a little easier for people who use scooters, wheelchairs, and walkers." That's all that Diestco does, and they do it extremely well. Every accessory has been developed in response to actual customer needs and customer feedback so you can rest assured that you are getting a stellar product.

Attaches to your wheelchair or scooting using mounting poles
Canopy can be attached or removed easily from the mounting poles
Mesh sides and rear mesh window
Drop over side plastic enclosure for maximum protection from the elements