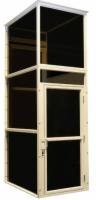 The AmeriGlide Enclosed Platform Lift is easy to install and perfect for both indoor and outdoor applications. A steel frame houses acrylic paneling that helps create a clean appearance that will blend seamlessly into any home and protect your from the elements when installed outdoors.
Other great features include a ready-to-install design that will save you hundreds on installation costs, constant pressure paddle switch, and an emergency stop button for added safety. The AmeriGlide Enclosed Platform lift also offers a long list of optional features to make your lift even more functional and convenient.
To learn more and enjoy unlimited accessibility to all levels of your home, call us today. Our experts can answer all your questions and help you place your order.

Lifting Capacity

:

750 lb

Standard Lift Height

:

53"

Maximum Lift Height

:

171"

Lift Speed (FPM)

:

10

Arrives Assembled

:

No

Drive System

:

Belt driven ball screw/90 VDC 1/3 hp motor with brake.

Battery Powered Option

:

Yes

Constant Pressure Platform Control

:

Yes

Emergency Stop Platform Control

:

Included

Alarm Button

:

Included, Optional Lighted Button

Keyed Platform Control

:

Optional

Call-Send Controls

:

(2) Non-Keyed

Optional Call-Send Controls

:

Keyed, Wireless

Platform Type

:

Solid with Non-Skid Coating

Platform Size

:

36" x 60" (34" Usuable)

Optional Platform Sizes

:

42"x 54" (34" Usable), 42" x 60" (40" Usable)

Platform Configuration

:

Straight-Thru Access

Guard Panel

:

42"

Portable

:

no