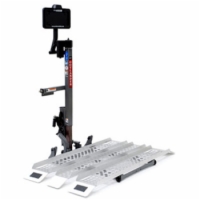 The Pride Outlander Double Entry Exterior Lift has 3 rails making it compatible with 3 wheel or 4 wheel scooters. It has one of the highest capacities available today (depending on your vehicle's hitch Class) and includes a license plate holder, adjustable wheel chocks, and a manual override.
NOTE: Hitch Not Included

Lift Type

:

Scooter

Lifting Capacity

:

350 lb

Power Source

:

Hardwire, or optional Battery Pack

Hitch Class

:

II, III, IV

Max Lifting Height

:

20"

Lift Weight

:

88 lb

Overall Platform Size

:

51" L

Usable Platform Size

:

42" L x 27" W

Folds Up To Vehicle

:

Yes

Folding Type

:

Automatic

Pride Outlander Electric Lift

Dec 13, 2011 2:21 PM

Herman the man

from

Lawrenceville, GA

would recommend this to a friend.

A Little About Myself

I am 84 years-old.

Pros

I received my vehicle lift in October 2011. It was delivered to my home in less than a week after I purchased it. I shopped the internet for weeks. A1 had the best price, I paid $1,010.00 and all other prices were above $1,600 plus.

Cons

None

Service & Delivery

Great, the truck driver unloaded it and set in my garage.

All I have to do is ride my Power Wheelchair on to the platform, get off of it, then my wife or my Grandson straps it down & puts on the cover in 5 minutes or less. I love it and it's so easy to operate.
Love my scooter lift!

Oct 17, 2011 1:08 AM

Eragon

from

Las Vegas, Nv

would recommend this to a friend.

A Little About Myself

Full of life and happy in spite of my injury.

Pros

I did a lot of digging into the different units out there and experiences people had with the various sales teams and so you know, you won hands down. The best I have ever been treated by a sales person ever!!!!!!!!!

Cons

You need a locking unit on the battery. despite that, there are no other Cons.

Service & Delivery

Delivery was great! I am still waiting for the swing arm, only a few more weeks to wait.

Great unit my wife loads and unloads unit and it is so nice that she does not have to run my scooter up a ramp anymore.