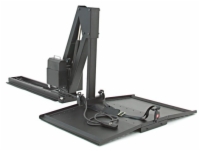 Instant Coupon Available



If you want to store your power chair or scooter in the back of your mini-van, then the Pride Backpacker Plus lift is for you! The lift comes standard with a battery pack, so you do not have to deal with all the complex wiring.
It doesn't take long or much work to load your power chair or scooter. First, press the button to lower the platform. Next, drive onto the platform and secure it. Finally, all you have to do is press the button again and the Backpacker Plus will lift your mobility aid and load it into your mini-van.
The simplicity, strength and ease-of-use of this lift combined with our low prices and superior customer service - means that you get real value for your money!

Lifting Capacity

:

325 lb

Power Source

:

Battery Pack

Boom Arm Rotation

:

N/A

Minimum Opening

:

31"

Boom Arm Extension

:

N/A

Height Adjustable

:

No

Adjustable Base Legs

:

No

Controls

:

Wired Remote