Lift Chair Assistant
Answer a few questions
and our lift chair assistant will narrow down your selection.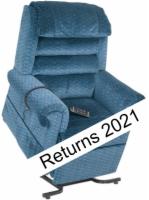 About the Relaxer PR756LC:
The PR756 is a large-size, infinite-position lift chair with a 375 lb. weight capacity. It is the only lift chair in the MaxiComfort series to utilize pillow-style back cushions. It features an integrated battery backup and, of course, MaxiComfort technology.
About Golden's MaxiComfort Technology:
MaxiComfort represents a true evolution in lift chair comfort. Based on NASA research, the MaxiComfort allows you to recline into a zero gravity position. This is the position where your legs are elevated above your heart, creating an open angle between your torso and thighs. Benefits include:
Correct Spinal Alignment
Back Pressure Relief
Expanded Lung Capacity
Improved Circulation

Recline Positions

:

MaxiComfort

Back Type

:

4 Pillow

Weight Capacity

:

375 lb

Chaise Seat

:

Yes

Minimum Recommended Height

:

5' 11"

Maximum Recommended Height

:

6' 2"

Overall Height

:

46"

Overall Width

:

39"

Floor to Top of Seat

:

20.5"

Seat Depth

:

22"

Seat Width

:

22"

Seat to Top of Back

:

30"

Seat to Top of Arm

:

8"

Floor to Back Edge of Seat Raised

:

28"

Floor to Front Edge of Seat Raised

:

23"

Seat Angle Raised

:

15°

Floor to Top of Foot Rest Reclined

:

24"

Floor to Top of Back Reclined

:

22"

Back Angle Closed

:

100°

Back Angle Reclined

:

174°

Foot Rest Angle Closed

:

90°

Foot Rest Angle Opened

:

180°

Distance Required from Wall Reclined

:

27"

Battery Back Up

:

Yes

Head Rest Cover Included

:

Yes

Arm Covers Included

:

No

Left Hand Control Available

:

Yes

Heat & Massage Option Available

:

Yes

Foot Rest Extension Option Available

:

Yes

Fire Retardant (California Specifications; bulletin 117)

:

Yes

Warranty

:

Lifetime Chair Frame, Lift Frame, and Recline Mechanisms, 3-Year Electrical Parts, 1-Year Mechanical Labor, 1-Year Electrical Labor