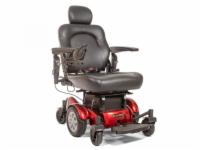 About the Golden Compass HD: The Golden Compass HD is a heavy-duty center-wheel drive power wheelchair that delivers agility and stability while transporting anyone up to 450 pounds. The Compass HD can be configured with a large array of seats ranging from a standard captain's seat to a pro flex seating frame that allows you to customize the seat and back cushions.

Other features of the Compass HD include front and rear adjustable seat posts, padded flip-up arms, a sliding seat bracket, and a 3-way adjustable footrest.

About Golden Power Wheelchairs: Golden power wheelchairs have the same great quality customers have come to expect from Golden lift chairs and scooters. With that in mind, you can expect years of top-notch performance from your Golden power wheelchair.

Weight Capacity

:

450 lb

Overall Length

:

39.8"

Overall Width

:

25"

Range

:

12 mi

Top Speed

:

4 mph

Turning Radius

:

20"

Weight, Total

:

209 lb

Weight, Base

:

90 lb

Weight, Seat

:

35 lb

Weight, Batteries

:

70 lb

Minimum Seat Height

:

20.5"

Maximum Seat Height

:

23.5"

Drive Wheels

:

10" Flat Free

Caster Wheels

:

6" Flat Free

Controller Type

:

Dynamic Shark, 75 Amp Programmable

Charger Type

:

Off-board, 5 Amp

Battery Type

:

22NF x 2