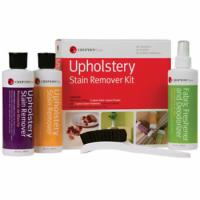 About the Upholstery Stain Remover Kit: If you have a lift chair or are looking to purchase one soon, consider this Stain Remover Kit from CryptonCare to keep your chair looking new. Each kit contains:
Crypton Gold, to remove beer, coffee, cola, grass, juice, tea, wine, and other protein stains
Crypton Purple, to remove grease, gum, lipstick, oil, rust, and other oil stains
Crypton Green, to kill bacteria, viruses, mold, and freshen the fabric
A soft-bristle brush to help with the removal process
This kit has been extensively tested to provide the highest stain removal power, but without the use of harsh chemicals. It is safe on all water-cleanable fabrics, although we always recommend testing on an inconspicuous area first.
P.S. Don't just limit it to your lift chair either. Consider using it on other furniture fabrics, carpet, car interiors, linens, and more!