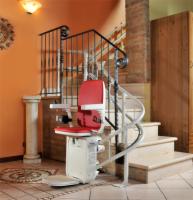 Buying a demo AmeriGlide Platinum HD Stair Lift will save you thousands of dollars without sacrificing quality or safety.
Demo models are exclusively used at trade shows and for onsite demonstrations
Track is completely new and custom designed to fit your staircase
Every unit comes with the same warranty as a new lift
Each lift is thoroughly inspected and tested before being made available to customers
Will look and operate like new!
Essentially, purchasing a demo model provides you with new lift at a discounted price.
Our Platinum Stairlifts are completely customizable for your unique staircase. Whether you have a spiral staircase or one that features, 90-degree curves, 180-degree turns, or any other type of design challenge, we can design a lift especially for your home. The Platinum HD has a 352 lb. weight capacity and a long list of available options to further customize your lift. You have the choice of two different types of seats, three colors to match your home's decor, electronic or manual footrest, and much more.
At AmeriGlide, we know that safety is always going to be a primary concern of yours, so that's why we make it ours too! The retractable seatbelt, pressure sensitive carriage and footrest, as well as the swivel seat will make you feel comfortable and safe each time you use your lift. As with all of our stair lifts, sensors can be found on the lift, as well as the track that detect obstructions that could be a safety hazard. Key locks on the stairlift will make your Platinum HD even safer for when guests or other family members are not authorized to use the lift.
Give us a call today to learn more about the amazing Platinum HD and take advantage of the savings available with a demo model!