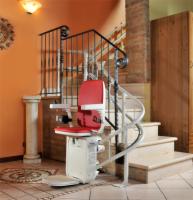 Our AmeriGlide Platinum Stair Lift HD - Demos come with a great warranty and at a significantly lower price than our new models. So, if you're looking to save some money on your stair lift purchase, looking into the reconditioned models is a good route to go!
Just because you need help getting up and down the stairs doesn't mean you'll have to settle for a clunky eyesore in your home, not when you choose the AmeriGlide Platinum Curve Heavy Duty Stairlift. This quality stairlift is designed for stairs with curves and landings that regular stairlifts can't navigate, and is especially made for larger users of up to 352 pounds. It's also designed to look finished and nice in your home, like a quality piece of furniture.
The covered feet provide a finished look, and the installation can be arranged so that the actual chair wraps around a bottom banister, completely off the staircase, if your home allows for it. Not only does that free up the stairs for others to use, it provides an even more furniture-like look. With an adjustable seat available in colors to match your decor, this stairlift will blend in instead of standing out.
The AmeriGlide Platinum Stair Lift HD - Demo doesn't just look good. It's also safe, convenient, affordable and built to fit your home and provide better safety and comfort. With great optional features like an ergonomic seat, powered swivel seat and more, you can customize your stairlift to meet all of your mobility needs.
Perhaps best of all, this unit has only been used for demonstration purposes in our nationwide showrooms. This means that your stair lift has been gently used before being thorough inspected and refurbished. You get to enjoy the comfort and convenience of a custom fit curved stair lift for a discounted price!
Check out the full installation video!