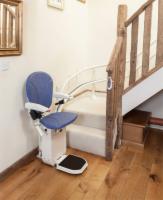 The AmeriGlide Platinum Demo Curved Stair Lift comes with a great warranty and at a significantly lower price than our new models. So, if you're looking to save some money on your stair lift purchase, looking into the reconditioned models is a good route to go!
The AmeriGlide Platinum Demo Curved Stair Lift offers you an unobtrusive, custom-fit way to navigate your stairway when mobility problems make it difficult or impossible to climb stairs on your own. Especially designed for curved stairways and those with landings, this custom-built stairlift can allow you to regain use of all the levels of your home again.
It comes with the convenience and safety features AmeriGlide is known for, like a retractable seatbelt, swivel seat, pressure-sensitive footrest and carriage, and sensors that detect whether the stairway is blocked. There are also a variety of great options like a powered swivel-seat or powered footrest raiser. The seat is adjustable for comfort and comes in different colors that allow you to match your stairlift with your décor.
Perhaps best of all, this unit has only been used for demonstration purposes in our nationwide showrooms. This means that your stair lift has been gently used before being thorough inspected and refurbished. You get to enjoy the comfort and convenience of a custom fit curved stair lift for a discounted price!
Not only will the AmeriGlide Platinum Demo Curved Stair Lift offer you a smooth ride even around 180-degree turns, it's also designed to blend in with your decor and work well no matter how your home is set up. A drop-nose finish can allow it to be used close to doors and passageways. You can even curve it around a stairwell so the seat parks off the steps completely. If you need a stairlift that can navigate landings and curves, invest in the AmeriGlide Platinum Demo Curved Stair Lift today.
Check out the full installation video!