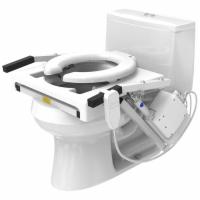 See the attached warranty document.


The TILT® Toilet Incline Lift is the perfect toileting aid that offers both dignified and independent bathroom use. You can experience both comfort and safety when using this patented toilet lift, which combines the functionality of a heavy duty commode and a lift chair into one easy-to-use solution that lifts to your natural body movement. The TILT is equipped with a push button control allowing you or your caregiver to easily operate with the push of a button.

The Tilt accommodates individuals ranging in height from 5'2" to 6'4" and supports up to 325 pounds. It attaches directly to the bowl and allows you to move 7½" forward, which positions your shoulders over your feet for optimal balance and positioning. Additionally, arms remain at an ideal positioning angle, which keeps elbows slightly bent to maximize ideal strength in order to exit the seat. The low angle of the unit allows for easier lateral transfers from mobility devices, transport chairs, etc. In the down position, the arms are lower than the seat for slide board transfers.

Seat Width

:

14.25"

Seat Depth

:

16.188"

Unit Weight

:

34 lb

Weight Capacity

:

325 lb

Overall Height

:

5"

Overall Width

:

24"

Overall Width with Arms

:

22.5"

Overall Depth

:

19.25"

Warranty

:

2 Year

Arms Included

:

Yes

Stand-Alone Unit

:

No