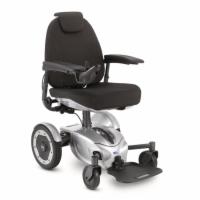 Bulky, hard to maneuver and transport electric wheelchairs are a thing of the past. Consumers no longer have to settle for personal transporters that don't address all their wants and needs. The Invacare Pronto Air Personal Transporter is the perfect combination of practical and aesthetic design elements.
Not only does it have a sleek and modern look, it employs the latest technology when it comes to comfort and mechanical innovations. The engineers at Invacare took great pains to ensure that customers don't have to worry about their chair breaking down or losing battery power. In addition, they created a chair that maximizes comfort and prevents the user from experiencing fatigue after a full day of activity.
With the Invacare Pronto Air Personal Transporter, you can experience the future of electric wheelchairs and the best experience when it comes to overcoming mobility challenges.

Weight Capacity

:

250 lb

Overall Length

:

37.8"

Overall Width

:

23.5"

Weight, Total

:

190 lb

Weight, Base

:

75 lb

Weight, Seat

:

55 lb

Weight, Batteries

:

60 lb

Minimum Seat Height

:

21"

Maximum Seat Height

:

25"

Drive Wheels

:

12"x2.5" Non-marking Urethane

Caster Wheels

:

6"x2" Urethane with Precision Sealed Bearings

Battery Type

:

17 AHx2