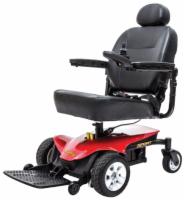 Experience the best in power wheelchair technology when you purchase the Jazzy Sport Portable model. This unique wheelchair has been designed for hassle-free transportation. It can be disassembled into several lightweight components and stored in your vehicle in just a matter of seconds.
The Jazzy Sport Portable allows users to experience convenient portability that doesn't compromise power or performance. In fact, the chair's front-wheel drive technology help make it one the most stable and easy to maneuver models on the market.
Call today to learn more about cutting edge product, additional standard features, and other available options that will allow you to customize your power wheelchair.

Weight Capacity

:

300 lb

Overall Length

:

42"

Overall Width

:

23"

Range

:

8.95 mi

Top Speed

:

4 mph

Turning Radius

:

24.75"

Ground Clearance

:

1.5"

Weight, Total

:

147.6 lb

Weight, Base

:

68.6 lb

Weight, Seat

:

43 lb

Weight, Batteries

:

36 lb

Maximum Seat Height

:

20"

Drive Wheels

:

9" solid

Caster Wheels

:

6" Solid

Controller Type

:

40 amp, PG GC 3 controller

Charger Type

:

Off-board, 3 amp

Battery Type

:

(2) U-1, 12 volt, deep cycle