Call
1 (800) 690-5388
if you have any stair lift questions.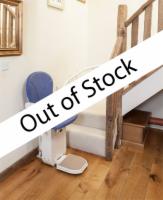 The AmeriGlide Platinum Curved Stairlift offers you an unobtrusive, custom-fit way to navigate your stairway when mobility problems make it difficult or impossible to climb stairs on your own. Especially designed for curved stairways and those with landings, this custom-built stairlift can allow you to regain use of all the levels of your home again.
It comes with the convenience and safety features AmeriGlide is known for, like a retractable seatbelt, swivel seat, pressure-sensitive footrest and carriage, and sensors that detect whether the stairway is blocked. There are also a variety of great options like a powered swivel-seat or powered footrest raiser. The seat is adjustable for comfort and comes in different colors that allow you to match your stairlift with your decor.
Not only will the AmeriGlide Platinum Curved Stairlift offer you a smooth ride even around 180-degree turns, it's also designed to blend in with your decor and work well no matter how your home is set up. A drop-nose finish can allow it to be used close to doors and passageways. You can even curve it around a stairwell so the seat parks off the steps completely. If you need a stairlift that can navigate landings and curves, invest in the AmeriGlide Platinum Curved Stairlift today.
Check out the full installation video!
* WA and CT residents please check your local code requirements.


Why buy your stair lift from A1 Medical Supplies?
PRICE
Our prices can't be beat!




Drive Type

:

350W Rack and Pinion Drive

Battery Powered

:

Yes

Self Installable

:

No

Basic Installation Included

:

Yes

Standard Capacity

:

264 lb

Max Track Length, Standard

:

19'

Track Material

:

Twin Tube Steel Rail

Swivel Seat

:

Yes

Swivel Seat Rotation

:

Top Only

Flip-Up Seat

:

Yes

Flip-Up Armrests

:

Yes

Constant Pressure Controls

:

Yes

Footrest Safety Sensor

:

Yes

Seat Width

:

17.7"

Unit Footprint, In Use

:

25.6"

Unit Footprint, Folded

:

14.3"

Call Stations Included

:

Yes - Wireless

Digital Diagnostics Display

:

Yes

Key Lock

:

No
Each curved stair lift must be custom manufactured to suit the unique requirements of the site. The unit is manufactured to the exact dimensions of the site application as determined by the digital survey and no two applications are alike. Lifts go into factory production immediately upon submission of the order to the factory which is after customer signs off on the CAD drawing. Accordingly, AmeriGlide has a substantial investment in resources and labor and as such we have a 25% cancellation fee for any order cancelled after the measurement survey but prior to submission for production, 50% once the lift is in production. Once a custom stair lift order has been shipped it cannot be canceled or returned. The shipment cannot be refused. No refund will be made for orders of this status.