Call
1 (800) 690-5388
if you have any stair lift questions.
All pre-owned AmeriGlide stair lifts are covered by a 1 year parts-only warranty. Batteries are covered by a 30 day warranty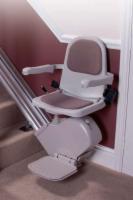 The Acorn 120 is equipped with a battery-powered motor, guaranteeing you have a working stair lift even in the event of a power outage. The folding swivel seat and footrest allow you to make the unit compact when it isn't in use so you can safely walk past the stair lift. An easy to use hand controller will guide you up and down the stairs with ease!
* WA and CT residents please check your local code requirements.


Why buy your stair lift from A1 Medical Supplies?
PRICE
Our prices can't be beat!




Drive Type

:

Rack & Pinion

Battery Powered

:

Yes

Self Installable

:

Yes

Basic Installation Included

:

No

Standard Capacity

:

280 lb

Max Track Length, Standard

:

7'

Max Track Length, Optional

:

15'

Track Material

:

Extruded Aluminum

Swivel Seat

:

Yes

Flip-Up Seat

:

Yes

Flip-Up Armrests

:

Yes

Constant Pressure Controls

:

No

Footrest Safety Sensor

:

Yes

Seat Width

:

17"

Seat Depth

:

14"

Unit Footprint, In Use

:

23"

Unit Footprint, Folded

:

13"

Warranty

:

1 year parts only

Call Stations Included

:

Optional - Depends on inventory available

Digital Diagnostics Display

:

Yes

Key Lock

:

No
Each curved stair lift must be custom manufactured to suit the unique requirements of the site. The unit is manufactured to the exact dimensions of the site application as determined by the digital survey and no two applications are alike. Lifts go into factory production immediately upon submission of the order to the factory which is after customer signs off on the CAD drawing. Accordingly, AmeriGlide has a substantial investment in resources and labor and as such we have a 25% cancellation fee for any order cancelled after the measurement survey but prior to submission for production, 50% once the lift is in production. Once a custom stair lift order has been shipped it cannot be canceled or returned. The shipment cannot be refused. No refund will be made for orders of this status.
Good piece.

Dec 19, 2009 6:08 AM

TopFuelTim

from

Cumming, GA

would recommend this to a friend.

A Little About Myself

Loving husband with average health.

Pros

I can self-install this Acorn Stair Lift. It looks nice and the sales representative that I talked too was very knowledgeable.

Cons

Noisier than my previous, stair lift.

The Acorn SuperGlide is a boon for my wife, who has rheumatoid arthritis. It allows her to use our two story with basement house again, with less pain. The second one I purchased has a little different track, and the transmission sounds noisier than our first Acorn. However, it works. A1 tech support for installation including basement door was fantastic. I also put Acorns in my sister-in-law and mother-in-law's homes.

29 of 30 people found this review helpful