FDA Class II medical device*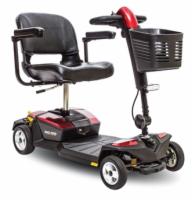 Travel anywhere in comfort and style with the Pride Go-Go LX with CTS 4-Wheel Travel Scooter! Run errands, visit friends and family, and enjoy an active lifestyle all while enjoying the best in mobility scooter technology and value.
This innovative scooter is the first to feature a Comfort Trac Suspension system. Front and rear independent coils work to absorb bumps and provide added stability as you smoothly traverse a variety of indoor and outdoor terrain.
The Pride Go-Go LX has also been designed with portability in mind. In just a matter of seconds, it can be broken down into five lightweight components that can be placed in the trunk of your car, allowing you to take it anywhere without having to invest in an additional vehicle lift.
Call us today to learn about additional features, which include long-lasting batteries that will keep you going for miles at a time on a single charge!

Weight Capacity

:

300 lb

Overall Length

:

41"

Overall Width

:

20.5"

Seat Depth

:

16.5"

Seat Width

:

18"

Per-Charge Range, Maximum

:

8 mi

Maximum Speed

:

4.4 mph

Turning Radius

:

33.5"

Weight, without batteries

:

85 lb

Weight, with batteries

:

105 lb

Heaviest Piece Weight

:

37 lb

Disassembly

:

5 Pieces

Front Wheel Diameter

:

8"

Rear Wheel Diameter

:

8"

Ground Clearance

:

0.75"

Tire Type

:

Solid

Drivetrain Type

:

Rear-wheel drive, sealed transaxle

Motor Type

:

24 Volt DC

Brake Type

:

Electro-mechanical, Regenerative

Battery Type

:

Battery Pack with (2) 12 Amp or (2) 17 Amp

Battery Weight

:

20 lb

Battery Charger

:

Off-board, 2 amp

Goes In Reverse

:

Yes

Freewheel Mode

:

Yes

Tiller Style

:

Delta Tiller with wrap around handles
*Pride® FDA Class II Medical Devices are designed to aid individuals with mobility impairments