Call
1 (800) 690-5388
if you have any stair lift questions.
All pre-owned AmeriGlide stair lifts are covered by a 1 year parts-only warranty. Batteries are covered by a 30 day warranty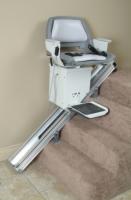 About the AmeriGlide AC Powered Stair Lift (used): This is a previously owned AmeriGlide AC Stair Lift. It plugs into a household outlet for power, has a 300 lb. weight capacity, and comes with call stations for both the top and bottom landings. The call stations can be mounted to the wall or the floor. The seat swivels 90 degrees in either direction for easy entry and exit and is finished in light almond vinyl upholstery. Safety sensors in the fold-up footrest ensure that you will stop without incident if there is an obstruction on the stairs. The AmeriGlide AC Stair Lift takes up only 14" of space when folded, ensuring that your stairs remain safe and easy to use.

About AmeriGlide Stair Lifts: AmeriGlide stair lifts help you keep the mobility you've enjoyed for so long in your home. Consider that an AmeriGlide Stair Lift offers many benefits such as: a simple installation that can be done in under 2 hours, safety features that have been incorporated after years of studying stair lift use, reliable cable-drive lift system and hard-wired electrical components, and minimal maintenance requirements.
* WA and CT residents please check your local code requirements.


Why buy your stair lift from A1 Medical Supplies?
PRICE
Our prices can't be beat!




Drive Type

:

Cable

Battery Powered

:

No

Self Installable

:

Yes

Basic Installation Included

:

No

Standard Capacity

:

300 lb

Max Track Length, Standard

:

7'

Max Track Length, Optional

:

25'

Track Material

:

Aluminum

Swivel Seat

:

Yes

Flip-Up Seat

:

Yes

Flip-Up Armrests

:

No

Constant Pressure Controls

:

Yes

Footrest Safety Sensor

:

Yes

Unit Footprint, In Use

:

24.25"

Unit Footprint, Folded

:

14"

Track Footprint

:

11.5"

Warranty

:

1 Year Parts Only

Call Stations Included

:

Optional - Depends on inventory available

Digital Diagnostics Display

:

No

Key Lock

:

No
Each curved stair lift must be custom manufactured to suit the unique requirements of the site. The unit is manufactured to the exact dimensions of the site application as determined by the digital survey and no two applications are alike. Lifts go into factory production immediately upon submission of the order to the factory which is after customer signs off on the CAD drawing. Accordingly, AmeriGlide has a substantial investment in resources and labor and as such we have a 25% cancellation fee for any order cancelled after the measurement survey but prior to submission for production, 50% once the lift is in production. Once a custom stair lift order has been shipped it cannot be canceled or returned. The shipment cannot be refused. No refund will be made for orders of this status.
Makes a big difference

Sep 16, 2013 12:57 PM

Not Worried Anymore

from

East Lansing, MI

would recommend this to a friend.

A Little About Myself

Daughter

Pros

Price, safety

Cons

Installation instructions could be clearer

Installed this as a surprise for my father; he was mad until he used it a few times...no more fear or planning each trip up or down.
Wow! A real life saver

Sep 19, 2010 12:03 AM

The cancer patient

from

Rio Linda, CA

would recommend this to a friend.

A Little About Myself

I am a 55 year-old cancer patient who needs lots of help.

Pros

Easy to operate, safe, pleasant on the eyes, and most of all a huge helping hand to anyone willing to accept it. Installation Tech was fantastic and of great help.

Cons

Took a little longer to deliver but nothing too outrageous.

Service & Delivery

A bit slow on delivery but installation more than made up for it. I would definitely recommend to anyone who wants and needs good service.

I just got this installed while I was down at the hospital having bone strenghtening treatment and Chemo. These treatments wipe me out to a point that stairs would have been too much but the lift worked great and I know that God sent me an angel of mercy when he sent me this group of people. Thank you

17 of 17 people found this review helpful
Quality lift and fairly easy to install.

May 21, 2010 2:33 PM

Handy Don

from

Rockville, MD

would recommend this to a friend.

A Little About Myself

Caregiver

Pros

Sturdy, safe, and built of high quality.

Cons

I installed this lift for my mother-in-law. I am pretty handy and had no trouble doing it myself. The installation manual doesn't have enough detail so I suggest you view the installation videos on the Summit Stair Lift site. The lift is great and has made a positive change in her quality of life.

28 of 30 people found this review helpful
Great deal!

May 8, 2010 9:24 AM

Stan

from

Portsmouth, Ohio

would recommend this to a friend.

A Little About Myself

Elderly

Pros

Sturdy, Safe, and Easy Storage

Cons

I use the stairlift without worrying about falling down the stairs.

23 of 25 people found this review helpful